Turquoise hair, don't care! Viral pics show how to celebrate your 98th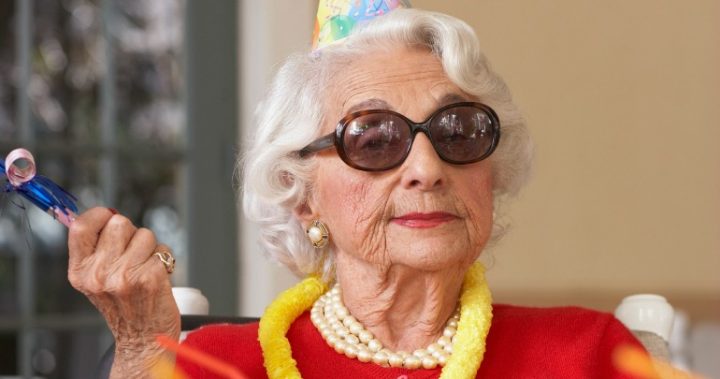 Why 'grow old gracefully' when you can have fun like this?
Snaps from Gladys Weikle's 98th birthday celebrations have gone viral, with the internet loving the photoshoot the feisty grandmother from Maryland in the US let granddaughter and "soul sister" Shannon organise to mark the event.
With her hair dyed turquoise and a matching blue, purple and turquoise tu-tu on, Gladys was photographed sipping champagne from a glass emblazoned with the worlds '98 and looking for a date'. Other shots show her with a 'smash cake' – a cake designed to be eaten with the hands by the guest of honour, resulting in a big mess but lots of funny photographs
Shannon's friend, photographer Cara Lynn McGilvrey, posted the pictures on social media and to all of their surprise, they were quickly noticed by media outlets , including Good Morning America, People, Time and BuzzFeed, as well as being shared almost 20,000 on Facebook.

"A lot of my friends are having babies and are either doing newborn photoshoots or smash cakes for their child's first birthday," Shannon, 29, also from Maryland, told People. "She's the person I do all these fun things with, and that's where the idea came in, and I wanted to do something special for her."
Ad. Article continues below.
Given that Gladys and Shannon got matching tattoos on their wrists for Gladys' 95th birthday, it's no surprise that her grandmother agreed to the funny photoshoot.
But Gladys does say that her hairdresser wasn't too impressed with the turquoise dye job.

"I could have left it blue. Maybe I should have. But I decided I should be normal again," she explained to ABC News in the US. "I asked the hairdresser to put some silver here and there. But you know what? I think it looks gold! What the hell? Why gold? Oh well, it'll get back to normal soon."
Would you celebrate a landmark birthday with an unusual photoshoot like this?