Turn your next holiday into a meaningful, enriching experience...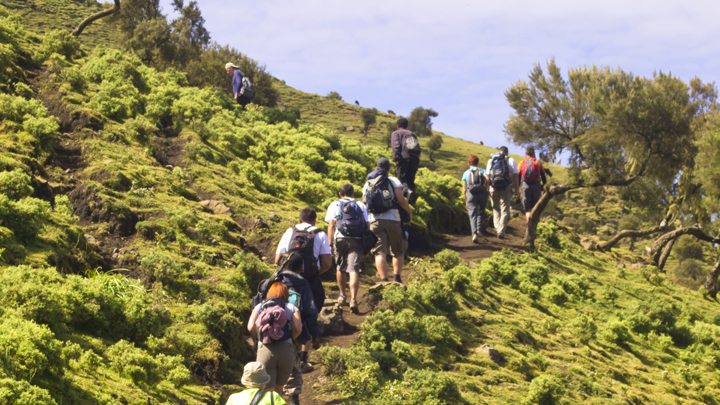 Volunteering is something that many of us strive to do in retirement. When, for the first time in our lives, we have the time and flexibility to do something and really help others volunteering is the perfect way to stay active and give ourselves a purpose again.
But, there is a new wave of over 60s who are changing the face of volunteering and travel all at the one time. These over 60s are people who enjoy overseas holidays to some remote, incredible and beautiful places, but they aren't there to soak up the sun or to sip wine with friends. They're there to make a difference. Volunteering abroad on volunteering holidays is something that so many over 60s are doing – and they love it.
We thought we'd investigate what volunteering abroad is really like and share some information on how you can get involved.
Why?
Ad. Article continues below.
Many people who volunteer abroad and turn their holidays into volunteering trips do so because they feel if they have the means to see the world, they may as well help people while they do. Kate, a 61 year old is a nurse who volunteers abroad every year told us that she does it because "it makes spending thousands of dollars on yourself seem a little more justifiable". She has the outlook that while it is wonderful to have the means to travel and explore exotic parts of the world, being able to give back to the places and people she visits makes spending the money worth it. Volunteering of any kind helps to give us a purpose, especially when we have finished work and have an empty nest. While there are always places and opportunities to volunteer in your own community, when you establish an emotional connection to people in a different place that often drives you to feel fulfilled by working with them.
What?
Choosing what kind of volunteering you do should be the same process whether you are volunteering locally or abroad. It comes down to what skills and knowledge you can offer other people or communities. If you're a nurse, see what programs require health professionals, if you're a teacher, see what programs require teachers and so on. Some types of volunteering programs don't require participants to have any prior knowledge or skills so as long as you are willing to help and put your entire skill set (whatever that be) to work you will be able to find a way to help.
Ad. Article continues below.
How?
There are so many volunteering websites and groups around that you can sign up to and find meaningful volunteering anywhere in the world.
Projects Abroad have programs designed for older people and welcome the wisdom, experience and knowledge that older people bring.
GVI Australia runs over 150 programs all over the world and works with older people to find projects that suit their skill set and physical ability level.
i-to-i is a volunteering organization that is targeted specifically at adults, their tagline "don't let the kids have all the fun" makes them unique in providing exciting volunteering programs for all ages.
Ad. Article continues below.
The Red Cross run volunteering programs across parts of Australia, the Pacific, Asia and Africa for people of all skill sets.
Who?
Some people prefer to take on challenges on their own and volunteering abroad on a solo trip can be not only fulfilling and enriching, but it is also a great way to meet new people – after all you're all there for the same thing!
But conversely, volunteering in a group with friends or family can be a wonderful way to enjoy a holiday together and work together to build a special connection and make great memories.
Ad. Article continues below.
Some things to remember…
Make sure that you have any valid certifications or qualifications before you sign up for programs that require specific skill sets.
Get appropriate travel insurance that provides cover for everything you do across your trip. If you're doing something high risk you may need extra cover.
Research your trip, the people you are visiting, the communities you are working on and the safety precautions you should take before your trip and while you're on your trip.
So tell us, have you ever considered volunteering abroad? Or have you ever done it yourself? Share your thoughts in the comments below…