Transform how you use tea bags with these 16 ideas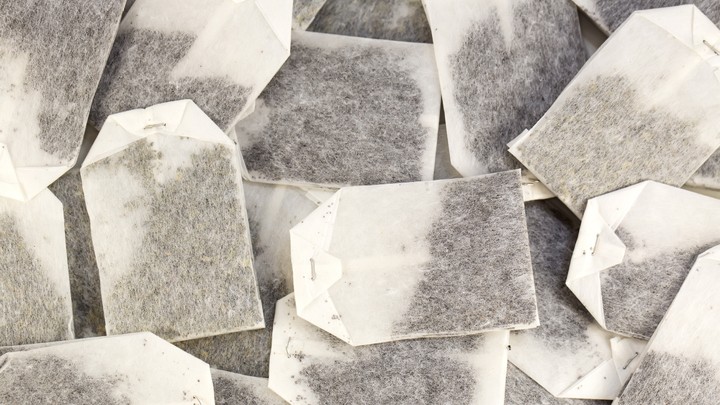 Who doesn't love a cuppa? It's relaxing, and it's cheap! Those tea bags are like liquid gold, but we're not just talking about in your drink. Did you know those little tea bags are actually quite useful around the home?
If you have some bags that are past their expiry or you're about to throw a used one out, we've found 16 awesome ways to use them!
1. Degrease dirty dishes
Get stubborn stains out of dirty dishes by soaking warm water with a couple of used tea bags to break up grease without using harsh chemicals. The tea will help to loosen any baked on food.
2. Deodorising hand scrub
Ad. Article continues below.
After handling foods like garlic, onions, and fish, simply open up used tea bags and empty the contents onto your hands. Scrub them together to get rid of the smell and rinse.
3. Draw out infections
Apply warm, moist pre-brewed tea bags onto skin affected by pinkeye, ulcers, blisters, plantar warts, or any other similar infections to draw out the infection, reduce pain, and help speed the healing process.
4. Make your pots sparkle
Rather than spending far too long scrubbing off stubborn stains, fill the pot with hot water, throw in two new black tea bags, and let sit overnight. The hot water and tea combination soften and lift stubborn food particles.
Ad. Article continues below.
5. Heal dry, chapped lips
Press a moistened black tea bag to your lips for 30 seconds to help your lips absorb the tea's antioxidants that help repair damaged skin cells and speed cell renewal. Repeat three to five times a week, or as needed.
6. Reduce puffiness around your eyes
This is an old trick but a very effective one! Simply soak a tea bag in warm water and place on each eye for 20 minutes.
7. Deodorise your rugs
Ad. Article continues below.
All you need is some pre-brewed tea. Store your used tea bags in the fridge in a cup of water – enough to cover the surface you want to clean. Then open the used tea bags and let all of the leaves dry until they are still slightly damp, but no longer wet. Sprinkle the loose tea over rugs and carpets and leave them until they are totally dry. Then vacuum them up or sweep the dried tea leaves away!
8. Heal a bruise
Put a soaked tea bag on a bruise to heal it faster. Ruptured capillaries, the smallest blood vessels in the body, create bruises, and tea stimulates blood flow to move it away.
10. Soak up odours in the fridge
Take the odours out of your fridge by placing a used tea bag on a small dish to soak up offensive smells.
Ad. Article continues below.
11. Clean a dirty mirror
Simply take a cool, used tea bag and wipe across the mirror and dry off with paper towel.
12. Create air fresheners
Add a few drops of your favourite essential oil to dry used tea bags to create air fresheners. Once the oil wears off, simply add a few more drops to refresh. Also, because tea leaves absorb odours, these creative homemade air fresheners will work double-time to keep your living areas smelling great and you can hang them up by their string.
13. Shine hardwood floors
Ad. Article continues below.
Use weak tea made from pre-brewed bags to clean and shine hardwood floors and polish wood furniture.
14. Dye grey hairs
Turn grey hair dark again without leaving your house! Make your own natural dye using brewed tea and herbs: Steep 3 tea bags in 1 cup boiling water. Add 1 tablespoon each of rosemary and sage (either fresh or dried) and let it stand overnight before straining. To use, shampoo as usual, and then pour or spray the mixture on your hair, making sure to saturate it thoroughly. Take care not to stain clothes. Blot with a towel and do not rinse. It may take several treatments to achieve desired results.
15. Boost your roses
Sprinkle new or used tea leaves (loose or in tea bags) around your rosebushes and cover with mulch to give them a boost. When you water the plants, the nutrients from the tea will be released into the soil, spurring growth. Roses love the tannic acid that occurs naturally in tea.
Ad. Article continues below.
16. Have a detoxing bath
Because tea leaves contain antioxidants, bathing in warm water steeped with pre-brewed tea bags is great for your skin. Try hanging the used bags over the faucet and let the water run through them as you fill your bath, or even just drop the bags directly into the water to create a nourishing tea bath. Jasmine tea is great for an aromatherapy experience, while Chamomile tea will relax your whole body while you bathe.
How do you like your tea?