Recycle your leftover soap ends with these cool ideas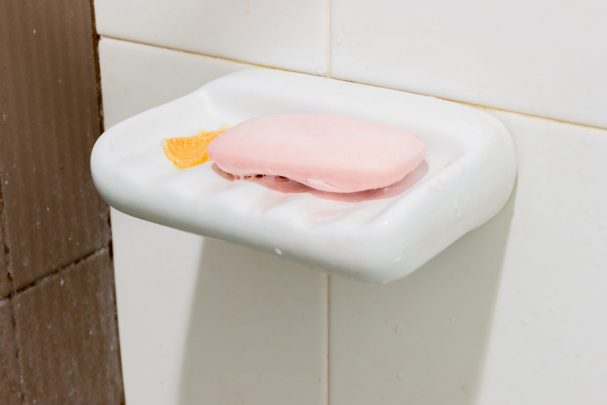 If you grew up with parents who were all about 'want not, waste not', throwing away anything that's useable is hard! That's probably why so many of us find it difficult to chuck away the worn ends of soap bars.
The bits are usually too small to be grabbed with wet hands and hard and cracked from sitting in the bathroom for months – so you're unlikely to use them as actual soap. And getting them to stick to the new bar of soap doesn't always work, so you risk them coming loose in the bath and making the surface slippery.
But those soap shards have plenty of other uses that can save you precious dollars. To make the most of your soap ends, check out these simple tips.
Make new soap from old scraps
The easiest thing to do with old soap scraps is to reform them into nice new bars of soap. Simply save up all your soap scraps until you have a large amount. When you have enough to make a few bars, break the leftover slivers up into small pieces. Place the pieces in a saucepan and fill with water, then melt the mixture over a medium heat until the soap starts to stick together. Make sure you stir the mixture often and don't let it come to the boil.
Ad. Article continues below.
Strain the soap pieces and mix in a large bowl until combined. Grease two small bowls or containers – these will be your soap moulds. Place the thoroughly combined soap mixture into the bowls and leave them in the fridge overnight. Remove them from the bowls in the morning and voila, homemade soap cakes!
Laundry detergent
Recycle your dry soap scraps by placing them in a food processor and grinding them until they form a crumbly powder. Put the powder in a large bowl and add in washing soda that's equivalent to double the amount of 'soap powder', as well as double the amount of borax . Washing soda is the common name for sodium carbonate, and both it and borax are available at Coles and Woolworths as well as online. Mix together evenly and use two tablespoons for your next load of washing.
Mark fabric
Small pieces of soap are great for marking fabric when sewing if you can't find your chalk. They will show up especially well on dark material, and an added extra is that you can quickly wash out the markings with a little water. 
Ad. Article continues below.
Make liquid soap
Why not convert those leftover pieces of soap into some liquid hand-soap for the kitchen or bathroom? Simply grate up your soap ends into small flakes until you have approximately 226.8 to 283.5 grams (8 to 10 ounces). Bring 3.8 litres of water to the boil in a large saucepan and stir the soap until the soap dissolves completely. 
Mix in two tablespoons glycerin if you're using store-bought soap shards as your base. If you are using castile or handmade soap, they will likely already contain glycerin already. Once the soap, glycerine and water are combined, remove from the heat and sit at room temperature for 12-24 hours. After a maximum of 24 hours, the mixture should be thick (if it's too thick you may need to whisk it up a little). Now, stir in any essential oils, extracts or scents you like and place the mixture in soap dispensers.
Do you prefer using liquid soap or soap bars? What is your go-to shower soap?
Read More: Facebook changes are coming – what it means for you, and for Starts at 60
Ad. Article continues below.
With Facebook removing news sites from your feeds we ask that you sign up for Starts at 60's emailers here. And to keep us on your wall, join some of our new Facebook groups and clubs:

News Junkies Club – Australia
News Junkies Club – USA 

See news on the change and links to all our other clubs and groups here.