The correct way to store your decorations when Christmas is over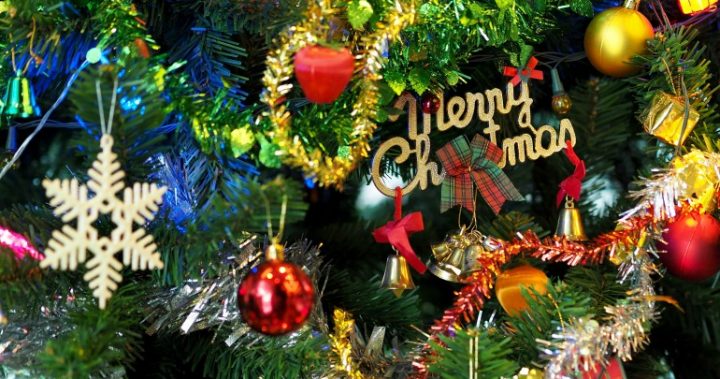 Now that Christmas is done and dusted for another year, most people are faced with the dreaded task of taking down the tree and locking the decorations away in a shed or abandoned cupboard somewhere.
While the quickest way is usually to just chuck your Xmas lights and tinsel in a box and forget about it until next December, there's no denying the sense of regret you have when it comes to untangling them when Christmas comes around in the new year.
Thankfully, there are some simple and easy hacks that will not only keep your decorations safe and organised, but make things a little stressful next year when it comes to getting into the festive spirit again.
Christmas lights
Christmas lights are pretty, but your mood won't be when you're trying to figure out how they got so tangled after simply being in storage for a year.
Ad. Article continues below.
To avoid any pre-Christmas outbursts, use a coat hanger to wrap your lights around. While it sounds silly, you'll be able to easily take them off next year and figure out exactly where they start and finish.
Then you can either hang it in a cupboard somewhere or store it safely in a container or box until you're ready to use them again.
Wrapping paper
Like most people, you probably go overboard when it comes to buying wrapping paper. While those cute Santa-themed designs are great for Christmas, there's not much use for them when the holiday season wraps for another year.
Rather than throwing them out, place any leftover rolls of Christmas wrap you have in a garment bag. Not only is this going to save you buying more next year, it's going to keep the paper looking as fresh as ever for when you are ready to use it.
Ad. Article continues below.
It also means that you can easily hang it in a cupboard and forget about it for another year.
Beads
If you love wrapping your tree in brightly-coloured beads, you'll know what a nightmare it can be to untangle them when it comes to putting your decorations up. Rather than throwing them in a box with everything else, try placing them in an empty bottle. A standard bottle you find at a local supermarket is usually large enough.
Simply fill the bottle with the beads, being sure to leave a tiny bit out of the top. Use sticky tape to paste it to the outside of the bottle. Then when the time comes to deck the halls all over again, you'll simple be able to unstick the top and pull out the garland without it becoming knotted and impossible to untangle.
Ornaments
Ad. Article continues below.
If you're the kind of person who loves to collect cute and quirky ornaments for the tree, you'll know how fragile and breakable they are. There's nothing worse than opening your Christmas box and discovering your favourite decoration has been smashed.
If you place the decorations into plastic disposable cups before storing them away, you'll find that they're easily organised for next time and that they're given added protection. Even feel free to wrap them in bubble wrap if they're particularly sentimental to you.
Baubles
Similar to delicate ornaments, baubles can often be extremely fragile. If you don't want to fork out more cash next year for more, try placing your baubles in a standard egg carton.
It's going to make them a little bit more secure and ensure they don't smash or break.
How do you organise your Christmas decorations when it comes time to take them all down?