Simple, low-cost tips for removing stains from a mattress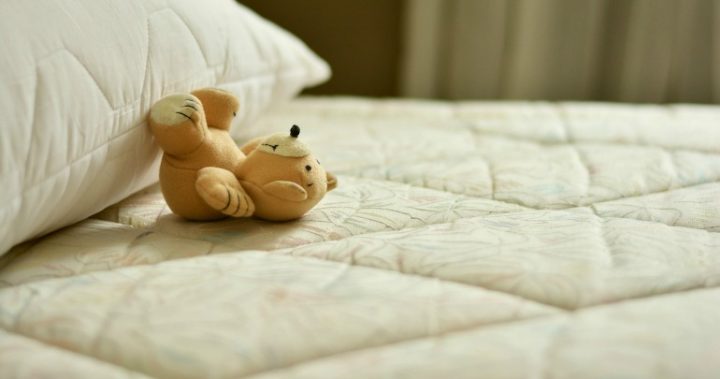 Cleaning bed linen is relatively easy, but what about the mattress?
Most people give little thought to their mattress, or find it too unwieldy, so never give it a thorough clean. But mattresses need to be cleaned regularly to prevent the build up of dust mites, mould and dead skin cells. 
Each night, the average person sleeps between six and eight hours. During that time, body oils and dead skin cells are transferred to the mattress, and the combination of dust, mould and sweat can aggravate allergies, interfering with a good night's sleep.  
Instead of buying a new mattress, though, your mattress can be cleaned via a couple of different methods.
Ditch the dust
Ad. Article continues below.
The easiest way to tackle dust is with a vacuum cleaner.
Remove the beater bars (end of the vacuum), and slowly and thoroughly run the vacuum over your mattress, including back and sides. If you own a garment steamer, go over the mattress with the steamer before vacuuming. The mist from the steam helps kill and remove dust mites from the surface.
Try to vacuum your mattress every month or, even better, every time you change your bed linen. 
Wipe out stains
Treat stains immediately – the longer a stain sits, the more likely mould and dust mites will build up.
Ad. Article continues below.
The easiest way to clean out a stain is with foaming shaving cream. Why? Because the foam is thick, it stays on the surface and works into the stain easier. After 10 minutes, wipe away with a damp cloth and rinse with a 50-50 vinegar-water solution, then repeat if needed. 
If your grandkids come to visit and one has an 'accident', don't fret! To treat a pee stain, simply cover the wet area with baby powder and place a few towels on top. After a few hours, sponge with a damp cloth soaked in white vinegar, then dry the mattress in the sun!
Remove odours
Sweat can build up over time and leave an unpleasant lingering smell in your mattress. A fantastic way to treat trapped odours is with a little cornflour and baking soda or bicarb. The cornflour absorbs body oils, while the baking soda removes odours. Simply shake on to the mattress and let sit for a few hours, then vacuum. 
Use a mattress pad
To prevent stains, odours and excessive dust, a mattress pad or protector is the best way to go. If you wash your mattress pad monthly, you won't have to clean your mattress as often!
Does the sight of a dirty mattress bother you? Or are you 'out of sight, out of mind' about it?