7 of the best uses for old toilet paper rolls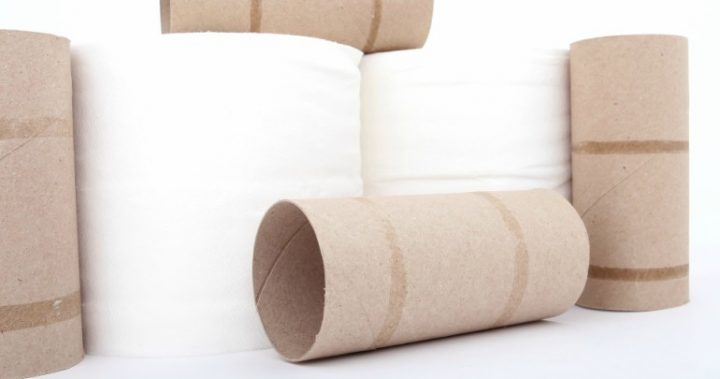 Toilet paper — and to a greater extent paper towel — is great for attending to some day-to-day habits and keeping things tidy about the house, but while we have a tendency to flush away there is probably little thought going into just how eco-friendly you are being. There are some very clever ways you can reduce your contribution to landfill by recycling the rolls from your toilet paper and paper towel.
Here's how:
1. Organise your cords
Avoid buying plastic ties or other contraptions to keep your cords from getting tangled and instead make your own.
Step 1: get yourself a cardboard box that stands a little higher than the width of a toilet paper roll, a bunch of toilet paper rolls, and tape or glue in case you want to secure the rolls together.
Step 2: gather the loose cords and wires and place the wrapped cords inside the rolls.
Step 3: place the rolls inside the cardboard box.
Ad. Article continues below.
2. Make a bird feeder
This can be an inexpensive means of attracting local wildlife into your backyard (be sure to use the right seed). All you need to do is cover the old roll in peanut butter and roll it in bird seed. Hang it outside when you're done. Voila!
3. Never lose your glasses again
If you have to turn the house upside down looking for your misplaced glasses, consider this simple craft project to help you in the future. The cardboard tubing is a great size for your glasses. You can make a fabric-covered case with this no-sew tutorial.
Read more: 5 amazing uses for apple cider vinegar
Ad. Article continues below.
4. Protect your plants
You've gone to all the effort to get some seeds in the ground, but you want to keep them safe from bugs and creepy crawlies looking for a snack. Grab yourself some toilet rolls and place them around the base of your seedlings and young trees to keep them safe and give them support.
5. Got cats?
If you've got a purr-fect friend, you can get crafty and transform an old toilet paper roll into hours of entertainment for them.
6. Deck the door
Ad. Article continues below.
Perhaps one to keep in mind for the next festive season… Using toilet rolls you can create a cardboard design that can lift the appearance of your front entrance.
Read more: 3 great things you can do with shoe polish besides shining your shoes
7. Store your wrapping paper
If you're tired of having to wind up your wrapping paper over and over again, take a toilet paper roll and cut a slit all the way up one side. Then slide it over your wrapping paper and end your furstrations permanently.
What other uses for old toilet rolls do you have? Tell us.
Interested in submitting your stories and opinion pieces to Starts at 60 or Travel at 60? You can sign up as a contributor here. We also invite you to connect with other community bloggers and learn more about blogging in our dedicated Bloggers Club on Facebook.