Return your silverware to its best, with little or no elbow grease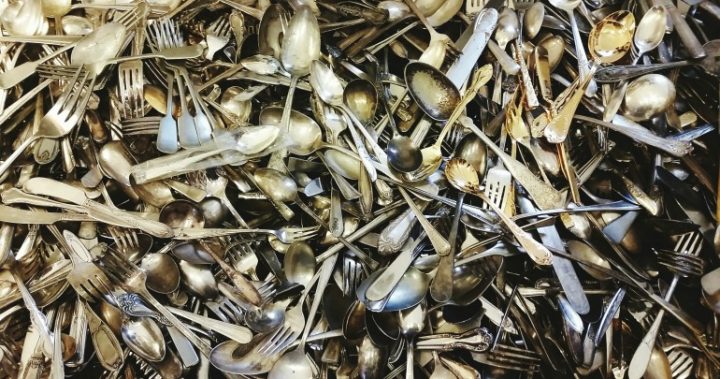 Silverware looks stunning in a table setting and is an item that can be passed down from generation to generation, but unfortunately, it often ends up at the back of the cupboard because it can be tough to clean.
Age isn't kind to silver that is not polished regularly, with pieces that aren't cared for tarnishing and suffering oxidisation that causes it to turn dull colour with a blackish tinge. Luckily, there are many ways to restore your silverware without having to use a whole lot of elbow grease.
Many of these solutions are simple and involve normal household items that you probably have at home.
Aluminium foil
Give your tarnished silver new life with this aluminium foil trick. Simply fill a saucepan with water and bring it to the boil. Add one tablespoon of baking soda and one piece of scrunched-up aluminium foil into the water.
Ad. Article continues below.
Drop your silverware into the pot for about 10 seconds, leaving heavily tarnished pieces in for a little longer. Wipe off the solution after you've removed the item from the water, and you'll be amazed at how much grime comes off. You may need to repeat the process a few times for extremely tarnished pieces.
Toothpaste
This is an easy method if you want a quick fix for shining up your silver utensils. All you need to do is squeeze a dollop of toothpaste onto a rag and buff it into the silver. It will begin shifting the grime immediately and will look even better when you rinse it off. This is best used on hardier items, as it could scratch particularly delicate surfaces.
Lemon juice and powdered milk
Make your silver sparkle again using a mixture of lemon juice and powdered milk (also known as dry milk). Simply mix one tablespoon of lemon juice with 1 1/2 cups of water and 1/2 cup of milk powder. Soak your silverware in the mixture overnight. In the morning, the solution will have worked its magic, removing any signs of oxidisation and tarnishing. Then you just need to dry the item and put it out on show.
Ad. Article continues below.
Cornstarch
To polish your silver, you need only look in your pantry for some cornstarch. Cornstarch is great for cooking and baking but also doubles as a silver cleaner – just create a thick paste by mixing it with water and apply it to the item you want cleaned.
Leave the paste on the silver until it dries hard, then use a mildly abrasive material to wipe off the paste. A slightly rough kitchen sponge will do. After you have removed the paste, rinse the silverware and dry.
Laundry detergent
Restore your silverware by doubling up your powdered laundry detergent as a silver cleaner. To use this method, take a medium-sized bowl and cover the inside with aluminium foil. Fill the bowl with boiling water and add one tablespoon of laundry detergent.
Ad. Article continues below.
Mix the powdered detergent in until it's dissolved, then place your silver in the solution. Leave it for one minute, then remove the silver using a pair of tongs. When you rinse off the silver, it should be looking like new.
To ensure your silver cutlery doesn't tarnish again, make sure you polish it every few weeks with a commercial silver polish such as Silvo. It is also a good idea to store silver items in a dry area in your cupboard.
How do you clean your silverware? Do you use any of these methods? 
With Facebook removing news sites from your feeds we ask that you sign up for Starts at 60's emailers here. And to keep us on your wall, join some of our new Facebook groups and clubs:
News Junkies Club – Australia
News Junkies Club – USA 
See news on the change and links to all our other clubs and groups here.