Snakes on a whaaat? What to do if you get into this scary predicament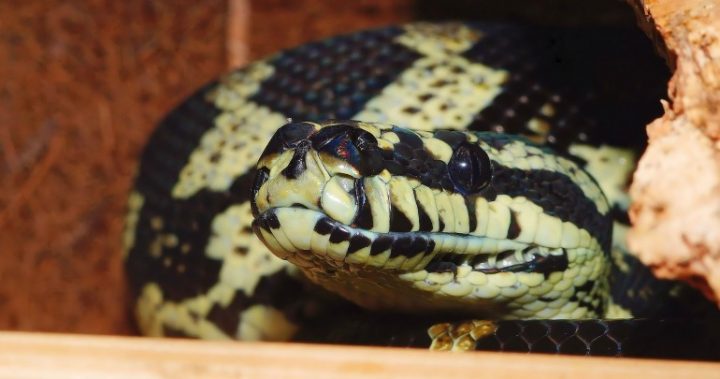 Roadside mechanics have no doubt seen most things while travelling the roads of Australia, but perhaps not this.
An NRMA mechanic called out to fix a flat battery on a car at Sussex Inlet on the New South Wales south coast on Thursday got a surprise when he opened the bonnet.
Because sitting on top of the engine, very close to where he had put his hand, was a 1.4 metre diamond python.
Luckily, the snake stayed still long enough for the mechanic, Stephen Hedger, to call a snake catcher to remove it.
Hedger told AAP that although he'd been a mechanic for 27 years, he'd never found a snake anywhere in a vehicle before.
Ad. Article continues below.
However, we can speak from experience on this – a carpet snake (as diamond pythons are commonly known) once coiled itself around the axle of our 1970 Toyota Corolla and stayed firmly in place as we drove from the countryside near Byron Bay in NSW to Brisbane, Queensland, which was a good three-hour journey. We stopped frequently to check on the snake, since we certainly weren't able to detach it, and it appeared to be fine.
Once we parked in Brisbane, it casually uncoiled itself and disappeared into some bushes, apparently unperturbed by its journey.
Despite the NRMA mechanic's inexperience with snakes in a car, it's apparently not uncommon. In fact, Practical Motoring offers advice on why a snake may end up in a car, having spoken to the experts at the Australian Reptile Park.
The experts said that snakes were attracted to engines that are warm, while the darkness of the bonnet cover doubled the allure of the hiding spot for the reptiles. They said it was unlikely, however, that a snake would be able to make its way from the engine to inside the car, and recommended calling a snake catcher to have it removed.
Ad. Article continues below.
"Our keepers don't do rescues as we are based full-time at the park but there has been the odd occasion when people have driven all the way to the park from Sydney with snakes in their engine asking us to remove them," the zoo told Practical Motoring. "For an experienced snake handler it's not too hard of a job."
As for what you do when they actually get into a place where they damage the car, that's another matter, as one Facebook user showed in response to the NRMA's post.
Have you ever had a snake turn up in a very unexpected place? What did you do?