How to get rid of lipstick stains on your clothing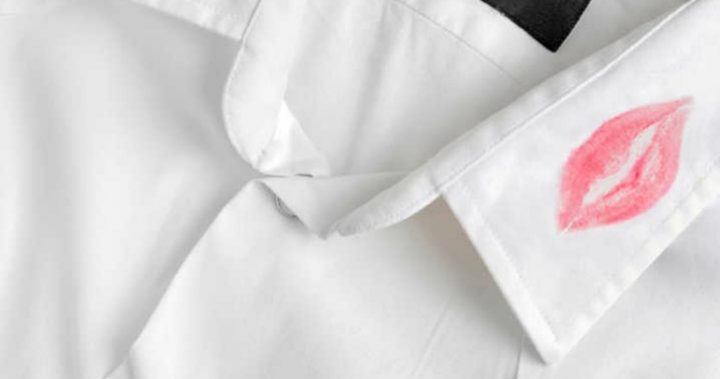 "Lipstick on your collar told a tale on you.
Lipstick on you collar said you were untrue
Bet your bottom dollar you and I are through
'Cause lipstick on you collar told a tale on you, yeah!"
It's a bittersweet song by Connie Francis from 1959 but it's also a dilemma many of us face: how do we get rid of stubborn lipstick stains from our clothing, even if they're not necessarily there for untoward reasons?
Lipstick is one of the hardest stains to remove. It's partly because they contain a combination of oil and wax, which is great for a smooth quality on your lips, but not so great on your favourite shirt.  
There are some options for removing it, though.
Fabric
Ad. Article continues below.
First things first, check out what the fabric is. If it's a non-washable or delicate item like silk, wool, or cashmere, your best bet is to send it to the local dry cleaners to let them work their magic.
If it's a different type of fabric, you might be in luck with a bit of DIY.
Scrape
First of all, get rid of as much of the lipstick as possible by lightly scraping the area. You can use your fingernail or a spoon.
Soak
Ad. Article continues below.
Grab some paper towel and place the item face down on it. Using general dishwashing detergent, rub a little on the back of the material where the stain is.
Brush
Flip the item over, and using a small brush, such as a toothbrush, lather up the detergent over the stain.
Wash
While it's still all wet and soapy put the item through the wash. It's important to let it dry naturally and not put it through a clothes dryer until you are sure the stain has gone.
Ad. Article continues below.
If there are still remnants left then repeat the whole process.
Other options         
Rubbing alcohol and hairspray are two household items that can also help remove stains.
Read more: 10 clever uses for hairspray you didn't know about. 
There are also number of professional products on the market that are specifically for stain removal. It's best to assess the type of clothing again, and the colour too.
Ad. Article continues below.
If it's white, you can opt for bleach-based products, but if not, you need to be more discerning. Exit Soap by White Magic promises to remove grease, biro, boot polish, blood, and red wine, as well as lipstick. Kiss-Off Stain Remover by name alone should do the trick. Garment Groom is a stain remover and fabric freshener in one, promoted as a kinder, gentler alternative to dry cleaning.
Do you have a stain removal method you recommend?