How items from the dollar store can help organise your kitchen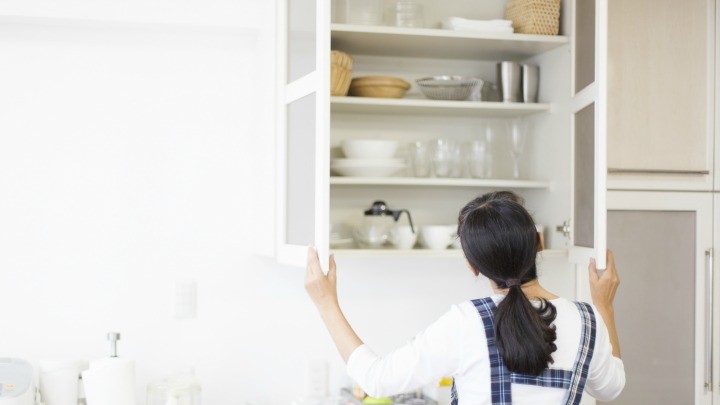 Organising your kitchen can sometimes be a nightmare! That hold-your-breath moment, when you open a cupboard to grab some tupperware and hope that it doesn't all come flooding out… Well, keeping everything in ship-shape doesn't have to be expensive, there are plenty of items you can purchase from your local discount store that can help.
Here is a list of things you can do, but the opportunities are endless.
Organise your spices
The dollar store is the perfect place to pick up some small jars for your spices. At around $1.50 – $3 a piece they are the perfect, budget friendly way to say adios to the plastic packets. Just label the jars and top them up as you need.
Cake stand
Ad. Article continues below.
Having a birthday party and want to present the cake you slaved over (or picked up from the local store) nicely? Simply purchase a wooden candle stick in a nice colour, or paint it if you have a preference. Once your cake is finished baking you can place it on the candle stick for a beautiful centre piece. Make sure you purchase a sturdy candle stick that will be able to hold the weight of your cake, or for extra security stick it on with some blu-tack. Alternatively, you could glue the cake tin onto the candle stick and arrange items on it for an everyday piece, like your hand soap, dishwashing liquid and sponge or to use as a fruit bowl for your table.
Easy storage for muffin tins and trays
Free up some space in your cupboards by purchasing some file organisers. These are metal racks which would usually sit on a desk to slot your paperwork into but put in a cupboard they are the perfect size to store your muffin tins and trays vertically.
Organise your pantry
One thing dollar stores are great for is plastic storage containers. Purchase a few that are small enough to sit on your shelves but big enough to hold a few items each. These will make organising your pantry so much easier, not only will it look neat and tidy but it will be easier to find what you are looking for straight away if you label and categorise them.
Ad. Article continues below.
Hang measuring cups and spoons
Purchase a piece of cork from the store and affix it to the inside of a cupboard door. This way you will easily stick a pin in the cork and hang your measuring cups and spoons off of them. Hang them in ascending or descending order of size and you won't need to search in those bottomless draws next time you need them.
Stack cans
A magazine/document stand flipped onto the side is a perfect way to store multiple tin cans. Place it on the back (the longer side that usually faces the wall) and you can start stacking your cans into it for easier storage.
Hang pots
Ad. Article continues below.
You can do this two ways, either purchase a towel rack and attach this to a wall or to the side of your cupboard. You will then need to buy some hooks, like the ones used to hang ornaments on the christmas tree, and hang your pots from them on the rack. Or you can just buy some individual hooks that stick to the wall, usually purchased for hanging pictures or frames. Stick these inside the cupboards if you don't want your pans visible and that will free up some space.
Easily store your chopping boards
Purchase a shower caddy and an adhesive wall hook for a quick, easy and affordable way to keep your fresh produce within arms reach. A caddy with a top and bottom section works best for this and are great for storing things like onions, garlic, avocados etc.
Will you try any of these ideas? Do you have any ways of organising your kitchen with items from the dollar store?