From DIY beauty to shining silver, 9 surprising uses for mayonnaise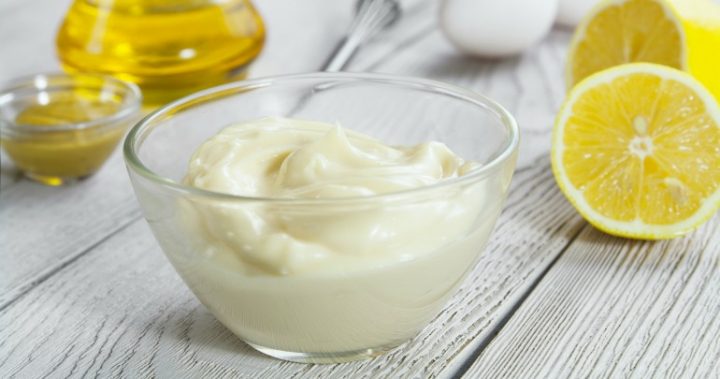 It's the perfect companion to a sandwich, a favourite with eggs, and a great addition to tuna – but mayonnaise can do a lot more than just spice up your lunch.
From DIY beauty aids to getting your silver shining, the condiment is great to have on hand for a multitude of home needs.
Here are some of its more surprising uses.
Sooth and moisturise dry skin
There's any number of moisturisers to heal dry skin and moisturise your body, but this one is sitting there in your fridge already if you ever run out and need some moisture on your skin ASAP.
Ad. Article continues below.
Simply apply a dollop of mayo to any rough patches of skin – ensuring you're not allergic to any ingredients – and leave it to soak in for 10 minutes.
Wipe off the excess with a damp cloth, and enjoy the difference. Julie Gabriel, the author of Green Beauty Recipes, reckons the oil and vinegar in mayonnaise can work to stop skin flaking.
Shine stainless steel and silver
If you have kids or grandkids around the house, you may be used to dirty fingerprints on your stainless steel or silverware.
But rather than splashing out on silver cleaner every time, using a small dab from your trusty jar of mayo on a cloth can buff your ornaments back to their best. The mild acid from the lemon and vinegar can help tackle tarnish.
Ad. Article continues below.
It's worth trying it out in a small, hard-to-see area first, though, to judge the difference it makes and avoid any unpleasant surprises.
Remove residue from stickers
Peeling off stickers to re-use a jar or container can go one of two ways – it's either a satisfying easy peel, or enough to send your blood pressure through the roof.
This trick helps speed up the removal of those difficult sticky patches, but it does require some patience.
After peeling off what you can, wipe a thick layer of mayo on the area, and leave it for several minutes. The fats and acid will work to break away the adhesive, making it easier to wipe off.
Ad. Article continues below.
Stop door hinges squeaking
A squeaky door hinge can become annoying to say the least, especially when you hear it daily, but applying a little mayo to the hinge can help.
After wiping the condiment over it, work it inside the hinge using some tissue, before wiping off the excess. Open and close the door a few times to really work it in there, allowing it to work its magic.
Remove gum from hair 
Seeing a child come running through your door with their hair in a tangle, and a mass of sticky gum in there, can prove a nightmare for any parent or grandparent.
Ad. Article continues below.
Rubbing in a little mayo and working it around the stuck-in gum, thought, can help loosen it and eventually allow you to slide the gum away more easily.
Gloss up house plants
Faux house plants are the perfect addition to a room to brighten it up all year round but they can get dusty quickly, eventually dulling the leaves.
Rubbing a little mayo on the leaves allows the acid to buff away the grime and leave them shining and looking brand new.
Manicure from home
Ad. Article continues below.
A bowl of mayonnaise is your new best friend if you're a fan of keeping your nails in great condition.
Simply dipping your fingers in a small bowl can help moisten the cuticles and soften the skin around your nails – perfect if you plan to do a home manicure.
Remove tight rings
You may have tried everything from water to Vaseline, but mayo can help remove stubborn rings from swollen fingers.
Wipe a thick layer around your finger to help ease the ring up and slide it off.
Ad. Article continues below.
Condition your hair
Just like it can help moisten your skin, the home-favourite can also condition your hair, but checking you have no allergies to the mayo ingredients first is particularly important.
If you've got no allergy worries, rub a thick layer into your scalp and allow it to sit there for around 30 minutes, before washing it away, to help soothe a dry or itchy head.
According to Julie Gabriel, egg yolk, which contains lecithin, encourages hair growth, while vinegar exfoliates the scalp and oil conditions the hair.
Have you used mayo in any of these ways? Did you have success, or would you recommend any more ways to use it?