Eight great ways to use vinegar in the bathroom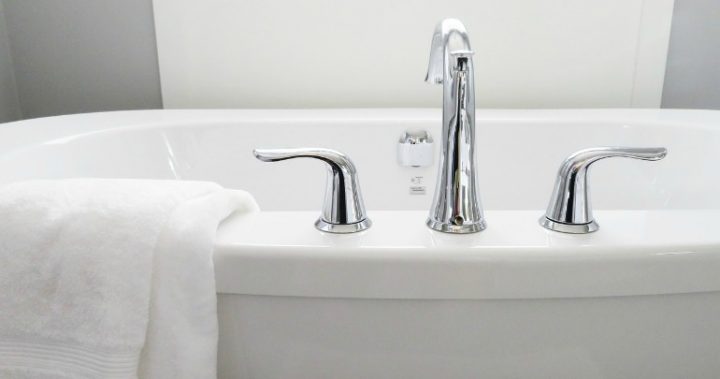 It's no secret that white vinegar is a fantastic cleaning agent. It's cheap, natural and can be used almost anywhere in the home.
Filled with stubborn messes, the bathroom isn't the easiest place to keep clean. It might sound slightly odd, but the trick to a sparkling bathroom is white vinegar. 
Vinegar has a high acidity level, which helps to dissolve deposits such as lime and rust. If you're searching for the perfect bathroom cleaning tool, these solutions are definitely worth a try. 
Shower head build-up
Do you find sometimes that the flow of the water is slow? This is usually caused by a build-up of deposits. To fix this, remove the shower head and soak in vinegar for a few hours. The vinegar will help break down those deposits and have your shower head working in no time. Once it's done soaking, give it a quick scrub to remove any excess gunk.
Ad. Article continues below.
Streaky mirror
Vinegar is a great mirror cleaning tool. Simply mix up one part water, one part vinegar and spray on the desired surface. Wipe away with a microfiber cloth to ensure a streak-free shiny finish. 
Clean your faucet
Lime scale can quickly build-up around your faucets and faucet handles. To dissolve those deposits, soak a rag or paper towel in vinegar and wrap around the base of the tap for a few hours. For a better result, leave overnight and wipe clean in the morning. 
Toilet stains
Ad. Article continues below.
There is nothing worse than an unexpected visiter and a dirty toilet bowl. To avoid deposit build up, grab a few paper towels and soak with vinegar. Tuck the paper towels under the rim of your toilet bowl and leave for a few hours. Why? This will make it easier to scrub out the stains later. Try this weekly, to stop deposit build up and an embarrassing encounter. 
Soap Scum
Soap scum is a tricky mess to clean. Showers and bathtubs can get really dirty from soap scum and the dirt that comes off our own bodies. To fix this, spray your bathtub or shower with vinegar. After 30 minutes scrub, rinse and admire your sparkling shower or bathtub. 
General surfaces
Vinegar makes for a great surface cleaner…most of the time. Fill a spray bottle with one part water, one part vinegar and use on all surfaces including benches, basins, tiles and shower screens. To void off any extra bacteria, add a few drops of tea tree or eucalyptus oil. 
Ad. Article continues below.
Unfortunately if your basin surface is stoned or marbled, vinegar can't be used on it. In this case, a damp cloth will work just as well. 
Air Freshener
Vinegar is surprisingly one of the best natural air fresheners around. In a spray bottle, mix one teaspoon of bicarb soda, one tablespoon of vinegar and one cup of water. If you already own an air freshener diffuser, fill it up with the vinegar solution once it runs out. Spray in the air to freshen and eliminate odours.
What do you think of these tips? What do you use white vinegar for?