7 amazing bicarb cleaning recipes for around the home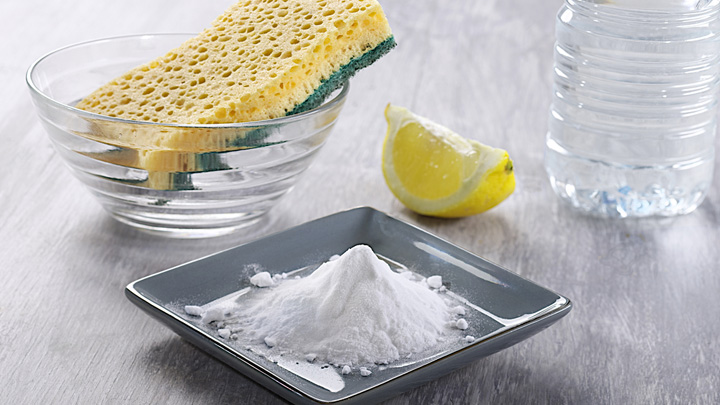 It's getting closer and closer to Christmas and now's the time of year we want to have our house looking ship-shape for our guests.
Before you go out and buy cleaning products for the big spring clean, simply look in your cupboard! You can make some amazing cleaners at home with bicarb and a couple of extra ingredients. Here's 7 of the best recipes we've found.
Which will you try?
1. Laundry booster
Restore those colours and give your laundry a boost by adding half a cup of bicarb soda to your wash cycle. It'll also make your clothes so soft.
Ad. Article continues below.
2. Drain cleaner
Got clogged or smelly drains? This is an easy fix. Simply add a cup of bicarb soda to any drain and let it sit for an hour. Then, boil 2 cups of vinegar and dump it down the drain. Run hot water and your drain will no longer smell. Easy!
3. Oven cleaner
This is where the magic will be happening this Christmas, and the last thing you want is dangerous chemicals seeping into your cooking. Clean your oven by dust the inside with a light coat of bicarb soda. Spray vinegar over the top of it until it begins to fizz. Leave the solution in for at least four hours and then wipe with a damp cloth.
4. Make a surface scrub
Ad. Article continues below.
For effective cleaning of bathroom tubs, tile and sinks, all you need to do is sprinkle bicarb soda lightly on a clean damp sponge and scrub as usual. Rinse thoroughly and wipe dry. Adding coarse salt to the mixture to can make it a bit more abrasive if you need to.
5. Deep-cleaning cleanser
This works on any bathroom surface – it cuts through soap scum and mildew as well as any commercial bathroom product and costs just a few dollars. All you need is 1/5 cups of bicarb, 1/2 cup liquid soap, 1/2 cup water and 2 tbsp white vinegar. Simply combine this together in a squirt or spray bottle and apply to your surface.
6. Carpet cleaner
Get those stains out of your carpet before the family arrives by mixing bicarb soda and liquid soap in a bowl. Dilute with water and add the vinegar. Stir the mixture with a fork until any lumps have been dissolved. Pour the liquid into the bottle. Shake well before using. Squirt on area to be cleaned. Scrub with a nylon-backed sponge. Rinse off with water. Keep cap on between uses.
Ad. Article continues below.
Rub light carpet stains with a mixture of 2 tablespoons salt dissolved in 1/2 cup white vinegar. Let the solution dry, then vacuum. For larger or darker stains, add 2 tablespoons borax to the mixture and use in the same way.
7. Clothing stain remover
A combination of bicarb and water mixed together to form a paste, then put on to clothing stains. Let it soak in for a while then wash as normal.