29 amazing uses for a melamine magic eraser sponge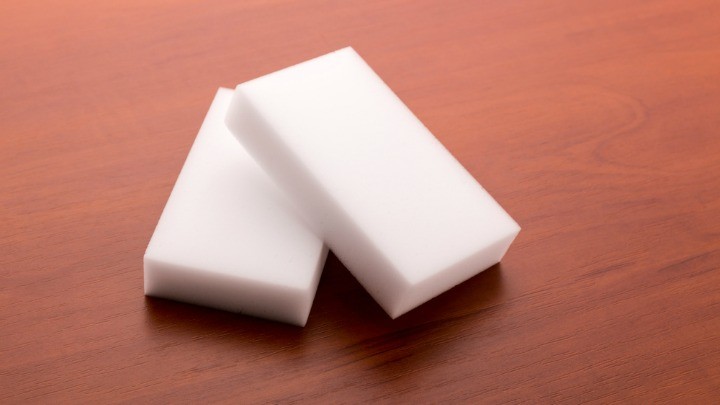 Have you ever used those awesome melamine magic erasers? They can replace several cleaning products in your home.
Ad. Article continues below.
Did you know these little sponges have multiple uses? We've found 29 excellent ways to take advantage of their power.
All you need to do is put a little water on them and lightly scrub. Once dirty, rinse and keep going. They wear down but are very cheap to replace with most $2 stores selling them.
Remove tarnish from silver
Remove mould and mildew from anything plastic
Clean and polish gold jewelry
Remove soap scum in the tub and shower
Remove marks on walls
Remove adhesive residue after removing stickers
Remove hair dye from countertops and floors
Clean light-coloured suede
Remove cooked-on stains in pots and pan
Clean dish drainers that are gunked with lime and build-up
Remove coffee and tea stains that remain inside a mug
Clean inside the slow cooker
Remove melted plastic on a glass top stove
Clean antiques and collectibles
Remove grass stains from shoes after mowing the lawn
Clean oven door
Remove soap scum and gunk from around the bathroom faucets
Remove soap scum inside porcelain and utility sinks
Clean your bicycle, even the tires and rims
Clean tile and grout
Clean inside your car (along the handles, window ledge, arm rests, dashboard)
Remove stains on leather seats, purses, chairs, etc.
Remove food stains inside plastic food containers
Remove nail polish from walls, carpets, wooden objects, plastic
Remove magic marker, permanent marker, and ballpoint ink from virtually any surface
Clean inside of the refrigerator
Clean and shine hubcaps
Remove built-up grime on the car steering wheel
Remove finger prints and build-up on the keyboard and mouse
Originally published here