Tips for keeping the grandkids out of harm's way at home
One of the joys of being a grandparent is the times you get to spend with the grandkids. Quality time at home is one of the biggest blessing you can have, but there are things you might need to look at, when making the house safe for little ones.
Carolyn Ziegler, co-founder and product development director at Dreambaby shares these tips on how to make the home not only child proof, but safe from inquisitive little bodies.
First steps
Ad. Article continues below.
Right from the beginning invest in blind cord wind-ups.They keep blind cords out of the reach of babies in their cots and from older siblings in general. Over-long cords can be very hazardous and lead to strangulation. But remember to keep cots and beds away from windows and window fittings whenever possible.
Once children become mobile, there are the obvious steps – block off power points with outlet plugs and move sharp objects, knives and poisons including medicines up and out of reach. Watch out for the sharp corners on tables. Get down on all fours and look up at the world from the point of view of a crawling child. It's amazing the hidden dangers you will immediately identify.
Safety hazards
I don't want to scare you but there are many hazards throughout the home. However, with preparation, a lot can be improved on safety wise. Move regular medications usually kept in the bathroom or beside your bed up and out of reach of a child, and preferably locked away. Keep children out of cabinets and drawers by properly securing them with child locks and latches. Prevent doors slamming on little fingers by securing them using a door stop or under door gripper. Preparation and recognizing the potential issues is what it's all about.
Remember though, every house is different, and every child is too. Your child or grandchild may never even look twice at a cabinet, but what about that visiting cousin or friend? They may have other ideas so make sure your home is secured for all children not just your own.
Ad. Article continues below.
What to look out for 
We need to look out for the obvious and the hidden dangers. Remember children learn and discover the world by experiencing things and unfortunately that can sometimes mean getting hold of a knife from the drawer, or unplugging the computer, or pulling on that tablecloth – so be aware at all times. Preparation, moving things out of reach, locking things away, using a gate, keeping children within site, and only allowing your child  or grandchild to be supervised by a trustworthy and loving adult are all important precautions.
Fine look at furniture
Choose either a very rounded cornered table that is really solidly made (NO GLASS), or nothing at all. Remember to also keep an eye on any food and coffee that you place on your table as they can be a hazard of their own
Children can be crushed from falling furniture. Nowadays furniture is designed with all the features at the front for aesthetic reason but the backs are very flimsy. It's simple physics that they topple. Always secure heavy furniture with straps or anchors. And make sure you install them correctly. You need to follow the instructions and always secure them to a solid part of the furniture and a solid part of the wall. And don't forget about free-standing flat screen TVs – always secure them with straps.
Ad. Article continues below.
Tips especially for Grandparents 
People should never underestimate how much grandparents do. Grandparents are major providers of childcare. According to the Australian Bureau of Statistics, in one year alone (2011 – latest figures), over a quarter of all children aged 0-12 years were provided childcare by grandparents and on average up to eight hours per week in the family home. It's not all one way though, while the job of caring for children can be physically and emotionally challenging for grandparents, being an actively engaged grandparent contributes most positively to their sense of health and well-being.
If I were to give tips for grandparents I would say invest in safety solutions that can be de-activated when the kids go home. So look for items like Dreambaby®'s Adhesive Mag Lock® which stop access to cabinets and drawers and can only be unlocked using the powerful magnetic key. When the grandchildren have gone home they can be easily disengaged. Their adhesive properties also mean they are easy to remove permanently, as no drilling or screwing is required.
If you have down-sized and space is an issue invest in space saving items such as a StrollaAway® This space-saving storage solution hangs neatly over doors to store and hang strollers when not in use. Perfect for grandparents living in apartments or smaller spaces or indeed anyone trying to make life with small children a little easier, safer and less cluttered!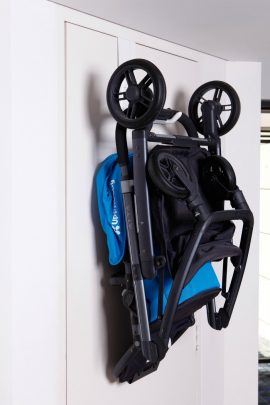 When it comes to safety gates choose ones with stay-open features or ones that retract out of the way when not is use so you can pass through easily when the kids have gone home.
Bath time can be a challenge if your back isn't up to it so invest in bath aids such as bath seats and supports but please remember these are not safety items – they are no replacement for adult supervision.
Safety reigns are another invaluable item if your grandchildren are bolters especially if you are walking along busy roads.
I suppose my main advice to grandparents would be to enjoy your grandchildren – it's such a special time and it goes quick.
How often do you look after your grandkids?