No Park, No Permit: This story will inspire you to stand up for what you believe in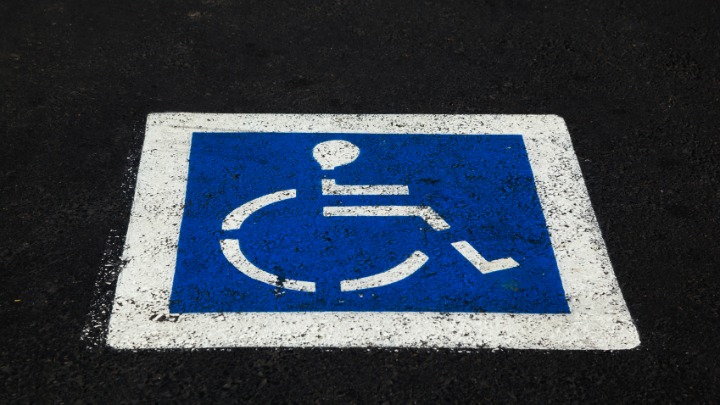 Elisha Wright has been shouted at, physically threatened and regularly receives hate mail but she says it's all worthwhile. The Queensland mum, along with 1300 or so community members, has found a way to set something right in this world and, although it can be tough at times, she knows from firsthand experience that it makes a massive difference to people's lives.
Elisha is the founder of the grassroots campaign No Permit No Park, which combats able-bodied people using disabled parking spots.
It all came about when Elisha found herself in a wheelchair after being diagnosed with Parkinson's disease. It soon became clear that few people thought twice about parking in spaces reserved for people with disabilities. When Elisha challenged offenders on this, she heard the same excuses over and over again:
"It was only for a minute"
"My husband has a permit (but he's at home)"
"I've got a child, it's the same thing"
One night, after a particularly nasty run in with a couple who saw Elisha using her walking aide but still refused to acknowledge they were in the wrong, she went home and penned a blog post venting her frustration. The post went viral and was read all over Australia and beyond; Elisha realised she wasn't alone.
Ad. Article continues below.
From there came a website and Facebook page where hundreds of people can share photos of people misusing disabled parking spaces, support each other and have a good old rant.
"Sometimes the sheer ignorance you're faced with is stunning and people really needed somewhere safe to vent about this," says Elisha."It's been most effective for people who feel no one cares or wants to help".
Supporters of the campaign are people with and without disability.
The most successful part of the campaign is a flyer members can download from the website, print and keep in their car to pop under the wiper blade of offending vehicles. It says, "It's very tempting to park here without a permit. After all, you'll only be a minute right?" and goes onto explain what it's like to live with a disability, outline the legislation regarding reserved parking spaces, and encourage the driver to set an example in the community.
Elisha says, "We do get hate mail but many other people's response is 'I didn't know'. Knowing we've reached one person and changed their attitude is what makes it all worthwhile".
Ad. Article continues below.
No Permit No Park is completely volunteer and member-run; it receives no funding from Government, however Elisha has been invited to meet with government departments to advise on access issues, and Queensland Police is running Operation No Permit No Park, which is cracking down on offenders in Brisbane city.
When asked how others can take a stand for something they believe in, Elisha had this advice: "The first thing to do is be able to tell the story, then it's  about reaching people and getting them to think about the issue from that perspective. It doesn't take a lot to build a website or Facebook page; social media is fantastic for reaching people. And don't be afraid to engage your local MP. We took this issue to our MP and  it expanded from there".
We think Elisha's story is incredibly inspiring and we hope you do too.
Tell us: what's something you would like to change in the world? And do you know of any other fantastic initiatives that do something to improve the world?