This DIY weed killer is so cheap to make and really works!
All of us want to get out and enjoy our little patch of green this summer, but before we can sit back with our feet up and enjoy a long cold glass of something delicious, we have to put the work in now while it's spring.
Getting rid of weeds is a back-breaking chore but this eco-friendly, super cheap, DIY weedkiller should have the job done in no time. With minimal effort this great idea will cut a corner and save you some cash, so you'll quickly have your garden looking beautiful, and you'll soon be enjoying that drink.
DIY Eco-Friendly Weedkiller
300ml spray bottle
1/2 teaspoon of dishwashing liquid
2 tablespoons of table salt
2 cups of vinegar
Start by pouring the dishwashing liquid in your spray bottle. I use the cheapest available, but any brand will work. The dish soap will allow the salt and vinegar to cling to the weeds.
Ad. Article continues below.
Next add the table salt to the spray bottle. The salt acts as a drying agent in the weed killer. It helps dry out the plant and kill it.
Finally, add vinegar to the spray bottle. The vinegar is an acid that will kill off the plant.
Shake the bottle up well until all the salt is dissolved.
Now you are ready to spray the weeds.
This weed killer works best when the sun is on the weeds, the direct sunshine scorches the leaves and dries them up. All you have to do is spray the weed and it will die over the next week or so. But just like all weedkillers it is capable of killing the plants you want to keep too – so be careful not to let it get on anything that you want to cultivate, that includes the lawn. Make sure you don't spray on your grass.
Ad. Article continues below.
It is pet and kid friendly and it shouldn't leave toxic residue. Just like all herbicides it would be poisonous to consume so don't leave it anywhere grandchildren and pets could have access to it.
This DIY eco-friendly weedkiller works really well, and it keeps the weeds from growing in the cracks of my driveway and paths. It also has the added bonus of being really cheap to make.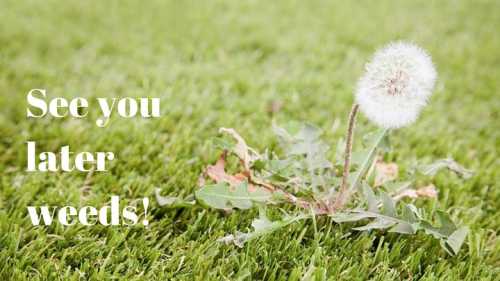 What tricks do you have to keep the weeds away and the garden tidy?