They made it! Plane crosses the Pacific with no fuel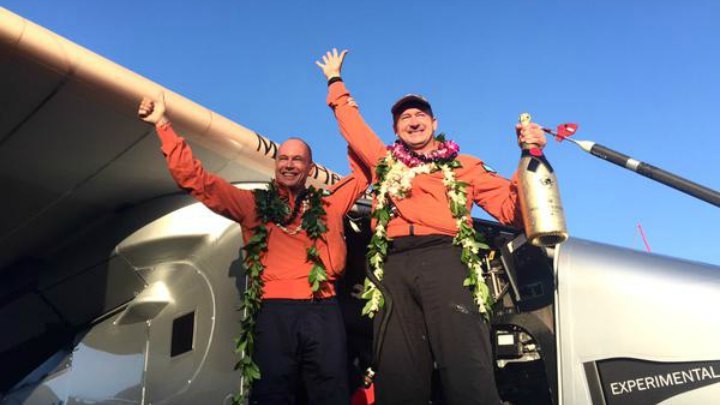 This is the moment a privately-owned plane made history by touching down safely in Hawaii. After five gruelling days jammed into a tiny cockpit, pilot Andre Borschberg can say he is the first person to cross the Pacific in a plane powered entirely by the sun.
HE MADE IT! @andreborschberg just touched down in #Hawaii after a record-breaking flight! #futureisclean @b… https://t.co/WQWsRKiCEi

— SOLAR IMPULSE (@solarimpulse) July 3, 2015
The Swiss aviator also beat Steve Fossett's record for the longest solo endurance flight.
Businessman Mr Borschberg, 62, and psychiatrist and aeronaut Bertrand Piccard, 57, who co-piloted the first balloon to circle the world non-stop, are together on a mission to show the world they can fly around the world in the sun-powered aircraft, Solar Impulse 2.
Ad. Article continues below.
The Japan to Hawaii leg was the most dangerous, traversing the Pacific at an average of 100 kilometres an hour. The journey took four days and 22 hours.
Solar Impulse 2 was grounded for a month in the Japanese city of Nagoya as they waited for a front of bad weather to pass.
The propeller plane weights around the same as a small car and has a wingspan wider than a Boeing 747-8I. On the wings are 17,000 solar cells, which charge on-board lithium batteries that allow the plane to fly at night.
During 5 days and 5 nights, I relied on the power of the sun, without any technical problem. It was extraordinary! pic.twitter.com/IMxK9uzfWj

— André Borschberg (@andreborschberg) July 3, 2015
Ad. Article continues below.
Travelling alone at altitudes of more than 9,000 meters, Mr Borschberg was utterly self-reliant in the unpressurised cockpit, using oxygen tanks to breathe and experiencing huge swings in temperature throughout the day.
He was equipped with a parachute and life raft, in case he needed to ditch in the Pacific, and took 20-minute naps and used yoga and meditation techniques to keep his mind rested and the circulation flowing in his legs.
Solar Impulse 2 has travelled from Abu Dhabi to Hawaii without a single drop of fuel.
Richard Branson, both rival and fan of the pilots, congratulated them on their feat.
What do you think of this feat? Could fuel-free aviation be a possibility in the future?