These over-60s have found a great way to express themselves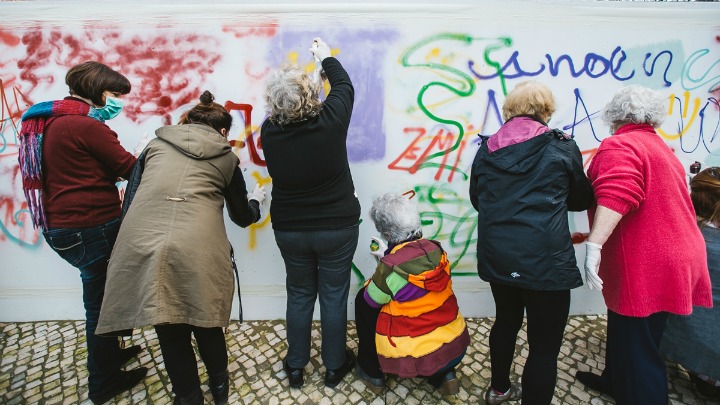 Look out, there's a new gang of graffiti artists on the street. Using stencils and spray cans, this posse tags old buildings in broad daylight, their faces obscured by blue surgical masks.
Take a closer look, however, and you'll be surprised to see that the people in front of the emerging street art are all over 65.
These intrepid artists are part of a program called LATA 65, an urban art workshop that teaches over-60s the finer skills of graffiti.
Over four workshops, students learn about street art, design their own tag, create stencils and then hit the streets with their new skills. The program is bringing life to some of the darkest corners of Lisbon, Portugal, with the second round of graduates creating colourful murals on run-down buildings.
Ad. Article continues below.
The unusual art workshop was created to bridge the gap between generations, and to "democratise" street art, which is usually the domain of young people. LATA 65 has taught around 100 Portuguese senior citizens how to "bomb" the city with colour and hope.
One student, D. Lurdes aka Armando, told The Telegraph: "Now I look at the walls with different eyes, I know what's in front of me on the street."
Students are joined by popular urban artists and go out together as a crew to make their marks.
Ad. Article continues below.
Architect and founder of Lata 65, Lara Pebble Rodrigues, says age is irrelevant and aims to demonstrate that urban street art has the power to change stereotypes.
Murals are sprayed in run-down parts of the city. The workshops have become extremely popular and many students say they have a new lease on life after completing the street-art workshop.
Have you ever looked at a wall and thought, 'Gee, I'd love to tag my name on that'? Perhaps not! Would you be interested in doing something like this if it were available to you?