There are hotels for pets now...but should we have them in Australia?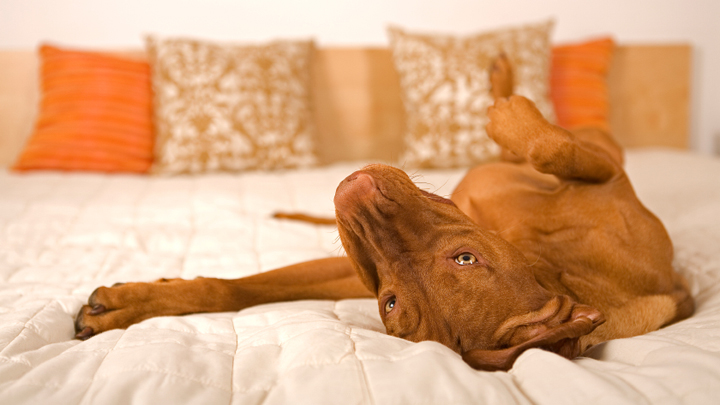 Walk into the lobby of the Savoy Hotel in London and the chances are you'll be greeted by a plethora of wagging tails as well as an immaculately coiffed and suitably deferential concierge. In the restaurant, Chihuahuas, Pekinese and the odd Labrador will be sharing cucumber sandwiches with the rich and famous. While many Australians find this off-putting, in Europe and most parts of the United States, pets are very much part of society as a whole. Pets are allowed in pubs, restaurants, buses and taxis and by and large they're universally well behaved and there are very few "accidents".
Until fairly recently Australia has gone down the opposite path. Pets were treated even worse than smokers are today. They were locked away, left on a chain and, unless you were in the outback, wouldn't be allowed within cooee of a pub, let alone inside one. But there are signs that the "times, they are a changin'".
A recent survey by Colliers Real Estate found that apartment complexes that were "pet friendly" had a 25 per cent higher resale value than those that banned pets. With this in mind, several new developments in Brisbane and the Gold Coast are now actively designing apartments with pets in mind. The balconies tend to be larger and carpets are rare. Obviously the lure of increased profits is having a small effect on the market. Retirees, who are finding the family home too spacious now the nestlings have fled, want to move into an apartment. But they want to take the family pet with them. They also want to take the family pet on holidays and hotels, motels and caravan parks that accept pets are finding themselves in demand. Unfortunately however, the vast majority of Australian hotels and motels still continue to ban pets. The reason they say, is that they might make a mess or annoy other guests. But hang on! Why don't they have that problem in Europe and the United States! Are Australian pets more inclined to be rambunctious and incontinent? I think not.
Ad. Article continues below.
It is of course the right of any provider of accommodation to remove anyone who doesn't comply with the "rules of the house". Excess noise, the trashing of rooms a la Keith Moon and Keith Richard are both rewarded with warnings and eventual removal. It's quite simple to do the same with pets. Besides, a well groomed and well mannered dog usually means the owner possesses similar qualities and is likely to respect hotel property.
Many pets overseas now actually travel with an international pet passport. This is shown to each hotel and contains signed statements from other hotels proving that the animal had behaved as well, if not better, than Britney Spears on a good day. Overseas, many pet owners will actually check to see what facilities the hotel provides for pets. So what's on offer and what should pet owners look for?
At Loews Hotel Chain (16 hotels across the USA and Canada) they actually have a "Loews Loves Pets" program. Well behaved pets of all types (except some aggressive breeds) are welcome. The program offers specialised services and first-class amenities that are specifically designed to make pets and their owners feel at home when travelling together.
Pets and their owners are greeted with a personal welcoming note from the hotel general manager with a listing of pet services available at the hotel. These include dog-walking routes, veterinarian information, pet shop and grooming locations, pet attractions, pet-sitters, pet-friendly restaurants, and other resources. They also have specialised bedding for dogs and cats and each pet is given a complimentary bag of pet treats and a pet toy. There are also special pet place mats with food and water bowls, and a special pet "Do Not Disturb" sign. The room service menu includes dishes such as grilled lamb or chicken with rice for dogs, grilled liver or salmon with rice for cats, and for health conscious cats and dogs, Loews also offers a vegetarian entrée! Pet-walking and sitting services can be arranged through the concierge desk. Some rooms even have a "Did You Forget" closet that includes dog and cat beds in different sizes, leashes and collars, and pet videos. Guests can also purchase essential items through the "Did You Forget" closet including kitty litter boxes, pooper-scoopers, and pet toys.
Ad. Article continues below.
All pet friendly rooms subsequently undergo special cleaning procedures including the use of specially-filtered vacuums to remove pet allergens in preparation for subsequent guests. In short, at Loews, they cater for pets in a big way!
In Australia we're a long way from heading up this path. However there are some pet friendly hotels available and judging from the ever increasing demand there are likely to be more in the future. As pet owners it's up to us to make sure we don't abuse the privileges that may eventually come our way. In the meantime, that pet passport sounds like a great idea!
What do you think? Should pets be allowed to stay at hotels or should they be left at home? Would you take your pet on a holiday? Tell us below.