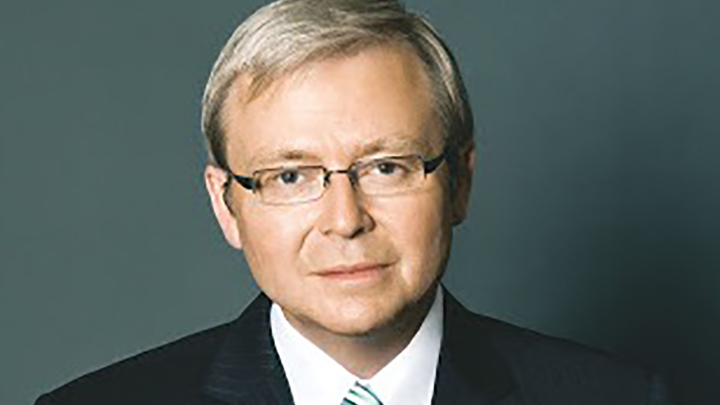 Kevin Rudd the previously unloved Aussie former Prime Minister could be lining up to become UN Secretary General in a move that would show our people just how valuable the world might think he is.
It's the political news no one really expected to hear today and a prospect of the ultimate political win for Australia's former Prime Minister, ousted in 2010 by his own party only to return in a blaze of furore in 2013 to be ousted again but this time by the public at an election later that year.
Word on the street today is that Mr Rudd could be in line for the role of UN Secretary General currently held by Ban Ki-moon at the end of his term which expires later this year.
The Australian is reporting today that his name is being bandied around by UN diplomats at the beginning of the content of selection, which the Turnbull Government would have to decide to back him on with a formal nomination.
And even if Australia chooses not to back his nomination, he could be put forward by the five permanent members of the Security Council who have a veto over other potential candidat­es, and for whom Mr Rudd could be a good compromise it is said.
There is no doubt on the inside that our former Prime Minister has been actively campaigning for the job although media reports and his own staff members deny his candidacy ahead of nominations.  Media reports have the possibility of him landing the role at 20%, not bad odds for our Aussie former PM.
"The answer now, as it has been previously, is that Mr Rudd is not a candidate,'' said one of Mr Rudd's spokespersons to The Australian.
"Appointments for the secretary-general of the UN are on a cyclical, geographical basis. The next rotation will be Eastern ­Europe, which has never had a secretary-general."
Would you like to see our former Prime Minister in this role?  Do you see it as a good use of his diplomatic skills or perhaps political revenge for his challenging departure?
Comments