The topless solution to a mid-life crisis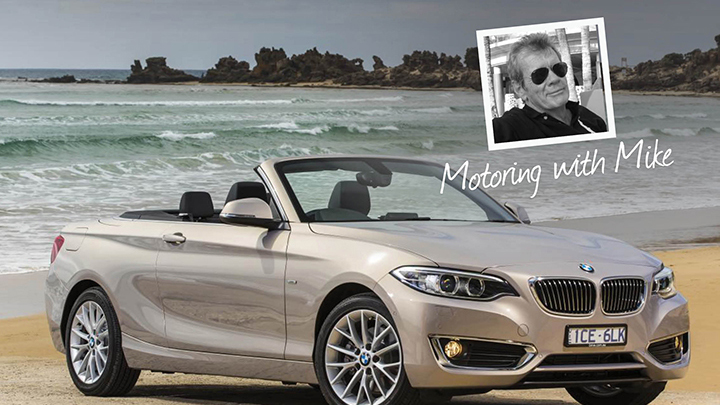 There's a television advertisement in which a gentleman of mature years watches enviously as an equally mature couple drives past in a sports car.
The message is that the couple had planned for retirement and could do whatever their desire dictated, including irritating the less fortunate or disciplined by driving around in a sports car.
I used to own a sports car similar to the one in the advertisement which is an MGA, a model built between 1955 and 1962.
This romance with open topped, classic British sports cars came to an abrupt end when I rolled it, a consequence of my exuberance exceeding my ability.
In spite of not being restrained by a seatbelt nor having a roll bar, I walked away with a few scratches.
Ad. Article continues below.
Since then, however, all my cars have had a metal roof but were I to again consider going topless, then it is a BMW 220i which would most tempt me.
This is the convertible version of the 220i coupe, one that has a metal roof which folds away at the flick of a switch in 20 seconds and which can be raised or lowered at speeds of up to 50kmh.
I prefer to do this when stopped in traffic so as to extract the maximum degree of envy from other motorists and pedestrians but it's a matter of personal preference.
It's a handsome machine from any angle, its subtle modernism reflecting the driver's taste for understated elegance, or so I liked to think when I was driving it.
Convertibles have a reputation for impracticality but the 220i can carry two rear seat passengers in reasonable comfort over short to medium distances.
Ad. Article continues below.
There's also sufficient space – 335 litres with the roof up and 280 litres with the roof down – in the boot to accommodate luggage for two for an escape to the beach or mountains.
Convertibles can also be noisy but not the 220i with five layers of insulation in the roof making it as quiet as its fixed roof coupe sibling.
Standard equipment faux leather upholstery, reversing camera, rear parking sensors, heated side mirrors, dual-zone climate control, satnav with a 6.5-inch multimedia screen, auto-dimming rear view mirror, auto headlights, keyless ignition and 17-inch alloy wheels.
The engine is a 2 litre petrol turbo charged four cylinder unit which delivers a smooth surge of acceleration from low engine revs through a silky smooth eight speed automatic transmission.
Fuel consumption should be around 6.2L/100km and the 220i will run on Regular 91 RON unleaded petrol.
Ad. Article continues below.
This power plant delivers all the performance you would ever need. If you really must spend more money, then there is the 228i and if you want to spend a lot more money and be the fastest kid on the block there is the M235i.
The 220i costs $54,900, the 228i $68,900 and the M235i $85,800 so buy the 220i, pocket the change and buy two business class fares to Europe. Simple.
The lack of a roof may trigger safety concerns but the 220i's standard features include an automatic rollover protection system that triggers twin roll hoops from behind the rear seat. There's also dual front and side airbags and BMW's Connected Drive system which automatically dials 000 if an airbag is deployed.
The 220i manages to blur the line between convertible and sedan in being practical, user-friendly Monday to Friday transport and a stylish, wind-in-your-face weekend cruiser.
Summer looms and with it, convertible friendly weather. Just remember the sunscreen.
Ad. Article continues below.
NUTS AND BOLTS
BMW 220i convertible
PRICE: From $54,900
WARRANTY: Three years unlimited kilometres
ENGINE: Two litre, four cylinder turbo petrol with power of 137kW and torque of 270Nm
Would you give a sports car a go in your 60s?