The Tasmanian radio station that will play your favourite songs by request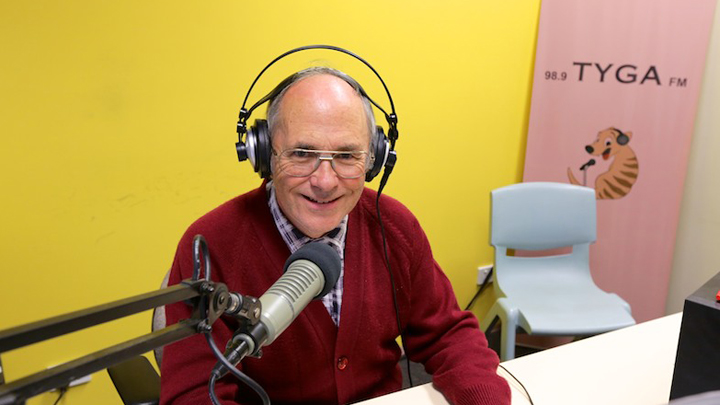 I became involved in Community Radio after retirement in 2007, when I joined Hobart FM. For the uninitiated, Community radio stations are non-profit, each being run by a volunteer group. There is an extensive network of Community Radio stations throughout Australia, most broadcasting a wide variety of programmes. City or country, there may be one near you.
I had never considered myself as a presenter of a radio brekky programme, but when air-time became available – 6 a.m. till 8 a.m. each Sunday – I did some quick calculations and realised I would need to rise at 4.30 a.m. each Sunday! Still, I said yes! I'm sure my wife thought I was crazy – she probably still does.
I adopted an alternative Christian name whilst on air and, with an easy-listening format, quickly established an audience who regularly phoned in requests.
Being the only person in the studio, I operated the panel, took phone calls and announced. Therefore, I was occasionally very busy, as the Hobart FM studio had little automation, with music usually coming from CDs or vinyl records.
In late 2009, a brand new Community station, TYGA-FM 98.9, began broadcasting in New Norfolk, a historic town 20 minutes' drive from home. TYGA-FM's call sign is based on the "Tasmanian Tiger," or thylacine, which is believed to have been extinct for the past 80 years. It is, therefore, pronounced "Tiger FM."
Ad. Article continues below.
After I joined, I found myself doing a three-hour Friday brekky programme in addition to the Hobart FM Sunday programme. I soon realised care was needed, to ensure the correct callsign was given on air!
Being extensively computerised, the TYGA-FM studio is very different to what I was used to. Computerisation does not mean foolproof, but, once a presenter becomes used to it, the task of hosting a programme becomes significantly easier.
In 2012 I left Hobart FM and since then, have presented Valley Sunrise between 6 a.m. and 9 a.m. every Friday and Sunday. Following a suggestion I made some time after I joined, TYGA-FM also streams on the Internet. By going to the station's website at tyga-fm.org.au, anyone can listen. Click on "Listen live;" click on either "Flash Player" or "Broadwave" (whichever is applicable to your computer); make sure your sound is on – and enjoy, wherever you are!
Many other radio stations stream in a similar manner and I have enjoyed programmes from interstate stations in this way.
Having read Starts At 60 for many months, I have observed a large number of readers who like the type of music I present on Valley Sunrise.
Ad. Article continues below.
For those readers, I will be happy to do a special Sunday programme on 23rd November, in which two hours (7 a.m. – 9 a.m.) can be devoted to your requests. Local requests will also need to be accommodated within these times.
A playlist, indicating the approximate time of broadcast of each track, will be posted on the Ray Hewitt TYGA FM 98.9 Valley Sunrise Facebook page and through Starts At 60. Some previous playlists have already appeared on the programme's page.
Depending upon demand, this exercise could be repeated at a later date. In addition, any Starts At 60 subscribers who are also presenters on other streaming Community stations may like to do likewise, during their programmes, so as to provide alternative listening times for people whose circumstances may prevent them from listening to my programme.
To lodge a request on Valley Sunrise, simply go to the programme's Facebook page to send details.
I look forward to "meeting" some of you on air,
Dennis "Ray" Hewitt.