The struggles of getting your man to go to the doctor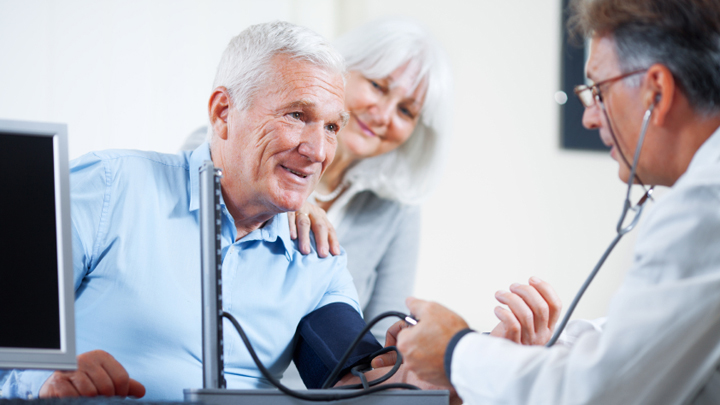 I saw an ad about BreastScreen on the TV and thought to myself – when was the last time Michael went to the doctor?
I decided to go into his home office and find out. In the 15 years we'd been married, I don't recall him ever going to a doctor's appointment, let alone having a sick day. Heck, he hadn't even had a sick hour or minute! He's a workaholic in every sense of the word and feels he is invincible. When I asked him when the last time he saw his doctor was, he laughed and said that he wasn't sick, so he didn't need to. He's a 63-year-old man! I could hardly believe it. I tried to convince him but it was to no avail.
About a week later, he hadn't come upstairs until 9pm, which was quite strange for him, but I put it down to a busy day dealing with new employees in his remote office. Then fear struck – what if he had a heart attack? It was a terrifying thought and considering he had no idea what his cholesterol was, I felt sick. Luckily, he was fine and it was just a busy day.
Michael's brother is in remission for bowel cancer, and his father also suffered from it, so suffice to say that he definitely needs to have this checked, on top of all the other necessary checks.
It made me wonder what other Starts at 60 members are feeling – do you have a husband or partner who doesn't go to the doctor half as much as he should? You might be feeling helpless and very frustrated – you could be left alone if the worst happens, but most of all you want him to be healthy and nip things in the bud before they're huge issues.
Ad. Article continues below.
In looking around the internet, it's clear so many women are in the same boat.
According to Dr Michael Kochman at the Hospital of the University of Pennsylvania's division of gastroenterology, there could be a few reasons why men don't want to venture to the doctor. Men believe they're invincible, he told Newsworks.
"We are the men of the house and many hold that to be the truth because they're busy and it's a sign of weakness to go to a physician, even when one is feeling well.
And chiropractor Basil Snyman agrees – he says, "Most men don't get to the doc unless they're in trouble. What motivates men is pain and being able to do what they want to. If you can get them to have their cake and eat it, too, with minimal change in their lifestyle, they're in.
It's about pride, and men don't want to look weak or ill, they don't want to have any appearance of ever being sick, and that's difficult.
Ad. Article continues below.
So how do we deal with this issue? For me, it was avoiding nagging, but gently nudging him to do it for his family. He has four children and three grandchildren, and we want to travel the world.
I told him that I was worried and I'd seen an article online about the necessary health checks for an over 60s man, and he needed them. He said he felt fine and not to worry, but I pressed a little more and said I'd call the doctor for an appointment. He finally said yes and went along.
We found out that he had hypertension, was at risk of diabetes, and had a slightly enlarged prostate. We're still waiting to get in for an appointment for a colonoscopy but we're hoping it'll come up clear.
Tell us below: have you had difficulty getting your partner to go to the doctor? What did you do?