The scary state of our grandchildren's mental health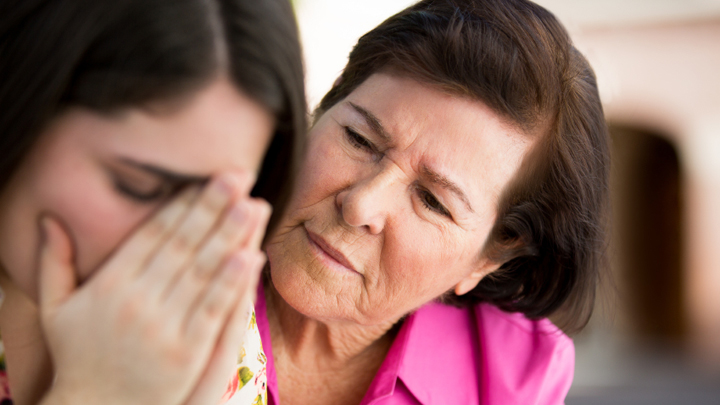 The largest ever national survey of youth mental health of its kind has just been revealed, what it tells us about teenage depression, self-harm and suicide is harrowing to say the least.
Minister for Health Sussan Ley has presented the landmark 'Second Australian Child and Adolescent survey of Mental Health and Well-Being' of over 6300 families and youths aged 4-17, with the last in 1998.
Amongst the sad news is a silver lining: young Australians seeking help has doubled and their preferred method of dealing with mental health issues are by engaging in sports, exercise and healthy eating.
The comprehensive survey found one in seven children and young people experienced a mental disorder in the previous 12 months – that's the equivalent of 560,000 young Australians.
Ms Ley said while that number was still high, it had stabilised over the past 17 years in a positive sign of change. However, Ms Ley said she was concerned about the rise in major depressive disorder over the same period.
Ad. Article continues below.
The survey also alarmingly found as many as one in 10 teenagers – or about 186,000 – had engaged in some form of self-harm in their life, including a staggering quarter of teenage girls aged 16-17.
About one in 13 teenagers (aged 12 to 17) also contemplated suicide – the equivalent of 128,000 youth – with one in 20 reportedly making a plan to take their own life and one in 40 attempting it. Suicide is still the biggest killer of people under 25.
"As a parent it's heartbreaking to see these prevalent stories of depression, anxiety, self-harm and suicidal tendencies amongst our young people, let alone as Health Minister," Ms Ley said.
"But it's also a credit to young Australians, and society as a whole, that so many youths are now not only bravely opening up about their emotions and behaviours, they're actively seeking out help and taking positive actions to manage them.
"We must recognise in years gone by many of these cases we're hearing about today would have simply gone unaccounted for while people suffered in silence.
Ad. Article continues below.
"However, when I see figures showing the majority of young people are now looking to join a sports team or activity, talk to a friend, or improve their diet to address mental health issues instead of turning to drugs, smoking or alcohol, that makes me immensely proud.
"There's no doubt raising awareness is only half the battle – we need positive outcomes as well – but surveys such as this spur me on to ensure we get this current mental health reform right first time".
The Australian Government is working with the mental health sector on long-term reform of the mental health sector and the way we help our children and grandchildren.
"Mental health is often a difficult conversation for parents and their children to have, but these figures mean it is an important one to pursue for everyone's sake.
"Ironically we are only finding out about these confronting trends because young people and their families are speaking up and reaching out and we've come too far to take a backward step now". Do you agree?
Ad. Article continues below.
Schools played an important role in identifying and managing mental health conditions so more needs to be done to support the teachers and assistants who have an insight into our grandchildren's lives from 8am-3pm, five days a week.
The survey also found that stigma and poor awareness of mental health issues were identified as the main issues for teenagers 13-17 with major depressive disorder not seeking help for further support, and one in seven mental disorders were considered severe (15%), while 25% were considered moderate.
So today we want to know, where should help start? Does the government need to do more? Is this a personal issue for you?