The pros and cons of downsizing: how to make the move less daunting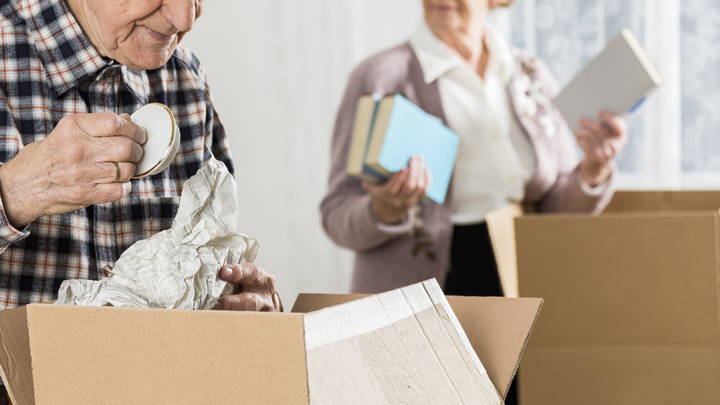 At some point as you get a little older you will think about the "what ifs" of living somewhere smaller. It might come about on a Sunday afternoon after you've finished mowing, weeding and maintaining your large yard and you think "it's getting too much" or "I just don't want to do this anymore". Or it could be after you've finished cleaning the house one day. You may think to yourself "why am I cleaning such a big house when we don't use a lot of the rooms?".
I have spoken to many residents at retirement villages after they have made the transition. They say the question of downsizing comes about gradually and then the thought process kicks in and it's a cycle that may take 6 months, 5 years or anywhere in between.
As well as being an emotional process, downsizing usually requires the help of a financial adviser. For most people it's the first time in their life they are spending solely off their nest egg, which in most cases is no longer being topped up with regular income. There are many other decisions that come into play. Everyone's situation is different.
But let's look at the pros and cons in the eyes of somebody who has been there, done it and living it….
Christine recently moved from her large family home to a 2 bedroom unit in a retirement village in Brisbane. I asked the question, "how did you decide your pros and cons"? She said she referred to them as minuses and pluses. What she would have to do without and what she would gain. I thought this was a very interesting way to look at. Christine is a very positive, outgoing lady with a smile to light up the room.
Ad. Article continues below.
Christine's minus side:
I can no longer accumulate a lot of stuff if my home is going to be smaller
I will have to give up a lot of my stuff
I will be giving up my independence
I am leaving the memories in my home
I'm scared about the costs
I'm worried about access to all the regular places I like to visit
Security is not that great in my large home
Access to medical services is becoming increasingly harder
Christine's plus side:
I'm starting a new adventure which is very exciting (important to note this was at the top of her list!)
I have increased security
I have access to doctors and pharmacy on site
There is better access to transport (village bus provided or bus stop directly out the front of the village if needed)
I realised I still have just as much independence
I have the memories of the things I could not bring with me in a photograph album and made a choice as to where they went
I've met lots of new friends on my new adventure
In terms of not being able to accumulate the stuff because of space limitations, Christine is shopping a lot less as she has met new friends, joined groups in the Village and suddenly become more sociable than she has been in years. Everything she had been missing is readily accessible there in the Village.
After speaking with Christine, it made me realise that you really have to make a pros and cons list. Visit a few villages to see what is on offer as this will help you form your pros. You still have to weigh them up with the cons, however, the general consensus always seems to be "I wish I had have made the move sooner".
Are you thinking about downsizing? What would your list of pros and cons (or pluses and minuses) look like? Tell us below!