The Pope's 10 commandments to be a happier person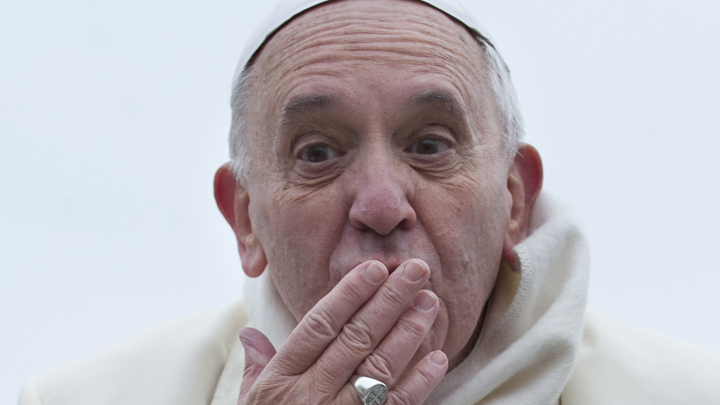 We've all noticed that Argentinian Pope Francis is a pretty 'hip' religious leader. He is very open-minded and no matter what your religion, he has shown compassion and acceptance of everyone.
The Pope has also released a list of 10 tips for a happier life and we're not surprised he's drawn attention to the topic. It's based on his own life experiences and is calling on people to be more positive, calm and generous. For instance, he wants us to turn off the TV and find a different form of leisure; to be more positive and tolerant of others.
Below is the list of the 10 commandments for a happier life. What do you think? Do you and will you follow these suggestions?
1. Live and let live.
Ad. Article continues below.
This is the backbone piece of advice. Peace begins in oneself. He wants us to move forward and let others do the same. Do not get stuck in the past, focus on the here and now to create a better future.
2. Be giving of yourself to others.
"If you withdraw into yourself, you run the risk of becoming egocentric. And stagnant water becomes putrid." It's important to devote time and energy into others because it can help us all.
3. Proceed calmly in life. 
The Pope refers to a quote from Ricardo Guiraldes novel where the character looks back on his life; in his youth it was rocky but with age becomes more peaceful.
Ad. Article continues below.
4. A healthy sense of leisure
With increased consumerism, it is even more important that parents set aside the time to be with their children. For instance, stay away from the TV and eat at the table together.
5. Find innovative ways to create dignified jobs for young people.
The younger generation needs to be challenged in creative ways. We don't want them to turn to drugs and be vulnerable so we must provide opportunities to set them on the right path.
6. Respect and take care of nature.
Ad. Article continues below.
The Pope admits that environmental degradation "is one of the biggest challenges we have", and encourages an increasing respect for natures that it deserves.
7. Sundays should be holidays.
The Pope stressed the important of taking Sundays to spend time to reinvigorate and spend quality time with the family.
8. Stop being negative.
It is important to stay positive when talking about others. No good comes from talking badly of others, rather it indicates a low self-esteem.
Ad. Article continues below.
9. Don't proselytise; respect others' beliefs.
Use beliefs to inspire others and help them grow; learn to work together.
10. Work for peace.
The Pope very confidently about the need for peace. He said, "we are living in a time of many wars. Peace sometimes gives the impression of being quiet, but it is never quiet, peace is always proactive."
Ad. Article continues below.
Watch a video segment on the 10 secrets to happiness below.
Tell us, what do you think of the Pope's advice? Do you agree with his suggestions for happiness?