The one change that made my 60s so much better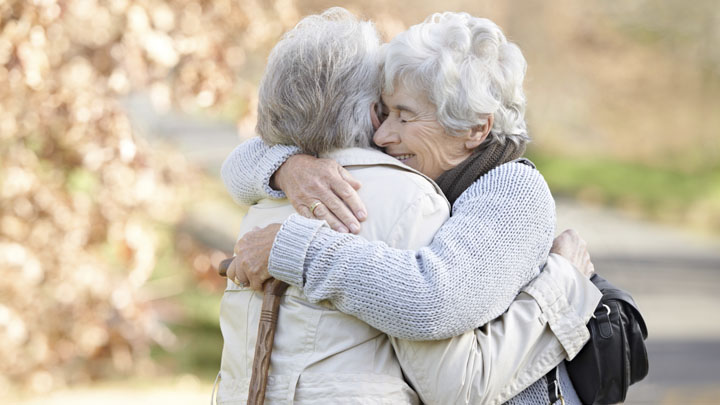 My very first memory is my younger brother emptying out my money box on the floor and running into his room with the loot, laughing the whole way. What I seem to recall is my next earliest memory is my twin sister sitting behind me at school and dipping the ends of my plaits into her ink pot and giggling with her friend. My whole life has been filled with stories like these. We had our annoying times but we also had the good times. The times with love, laughter and happiness, but in our 20s all three of us separated. We have all lived in different countries and grew up with quite a distance, emotionally and physically, between us but over the last decade we've found our way back and I wouldn't have it any other way.
My brother moved to America to work in technology years and years ago, he was 23 at the time. My sister moved to England, following a man she had met while he was on holidays, who she ended up marrying. And little old me stayed in Australia. Three siblings in three different countries with different school systems, different holiday times and very different jobs meant that getting us in the one spot was more difficult than herding cats.
We only once were all together in all of those years, with our children and spouses, for Mum's 80th birthday just a few years ago. Until then, it was always one family going on holidays to one destination when they could afford it. But at our mother's 80th birthday she told us that her one wish is for the family to come back together and continue as the happy family unit we once were.
Ad. Article continues below.
It has been six years since then, but over that time May and John have come back to Australia and for the first time in a very long time, we've been able to see each other and actually learn who each of us are as adults – not as the children we still see shades of.
Having my two childhood best friends back in my life again has really put happiness back into my life. Over the years my friendship circles have dwindled down as people have travelled abroad and stayed, moved away or chased kids and grandkids around the world. It has been so lovely to reconnect with two people that are so different, yet we still have so much in common.
Sibling relationships are funny ones. We can seem as different as can be in so many ways and we can think that friendship isn't that and that it is an "obligation" to see each other and be kind to one another, but deep down there is a connection that is out of our own control. I read last week that a study from Sweden found that keeping in contact with your sibling in your 80s correlated with positive mood and health. I wonder how true this is – we aren't in our 80s but we are all happy and healthy!
Whether they have been highly involved in our lives or if we've had very little contact with one another, we share a special bond with our siblings. It's true, they are our oldest friends regardless of whether we recognise them as being so.
So tell me today, what has your journey with your siblings been like? Have you stayed close throughout your life? Or like me, have you separated and come back together again? Share your stories in the comments below…