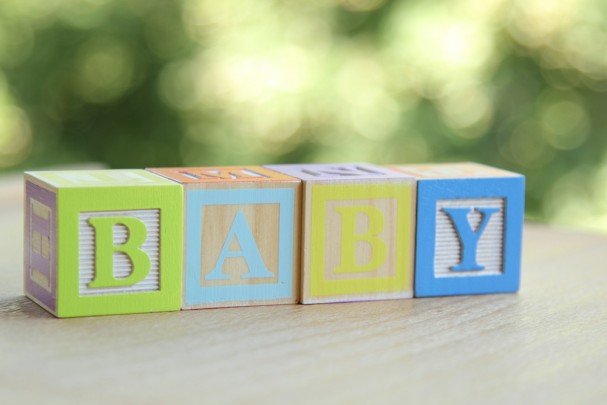 One thing that has changed quite a lot since we were born and our children were born is baby names. Many years ago the most popular names were Karen and Sharon, John and Peter, Emma and Kate or Daniel and Liam. Nowadays parents are choosing more modern names… or are they?
The top 100 list of boys and girls' names for 2015 has been released by Nameberry and we have to say: there are some surprises.
Rather that go for quirky names, it seems parents have stayed with classics and biblical names: the top girls' name for 2015 is Charlotte and the top boys' name is Ezra.
Closely followed by pretty classics Amelia and Ava for the girls, the boys had some more interesting top choices: Asher and Atticus, the latter being a main character in 'To Kill A Mockingbird'!
Take a look at the top 100 lists of both the girls and boys and tell us: which are your favourite names? What are your grandchildren's names?
Girls
Charlotte
Amelia
Ava
Olivia
Cora
Eleanor
Isla
Lucy
Evelyn
Penelope
Aurora
Violet
Adeline
Claire
Hazel
Adelaide
Emma
Scarlett
Arabella
Alice
Luna
Mia
Grace
Lila
Imogen
Esme
Rose
Quinn
Evangeline
Elizabeth
Ivy
Mila
Ella
Aria
Harlow
Caroline
Nora
Maeve
Khaleesi
Emily
Chloe
Matilda
Maisie
Aurelia
Isabella
Genevieve
Sienna
Anna
Thea
Nova
Stella
Audrey
Riley
Poppy
Clara
Elodie
Iris
Beatrice
Sophia
Eliza
Ellie
Ruby
Wren
Hadley
Harper
Willa
Abigail
Eden
Eloise
Jane
Maya
Lydia
Astrid
Clementine
Eliana
Mae
Seraphina
Cordelia
Piper
Everly
Isabel
Avery
Sadie
Emery
Margaret
Evie
Hannah
Emilia
Elsie
Ada
Eva
Josephine
Mabel
Leah
Olive
Julia
Elise
Daisy
Gemma
Rowan
Boys
Ezra
Asher
Atticus
Declan
Oliver
Silas
Milo
Jude
Henry
Jasper
Kai
Levi
Jack
Leo
Wyatt
Caleb
Liam
Miles
Austin
James
Sebastian
Finn
Theo
Ryker
Andrew
Zachary
Everett
Oscar
William
Felix
Ethan
Owen
Beckett
Theodore
Benjamin
Thomas
Axel
Jayden
Ronan
Archer
Graham
Callum
Eli
Logan
Luca
Bodhi
Luke
Lachlan
Soren
Grayson
Jacob
Sawyer
Elijah
Alexander
Isaac
Ryder
Jackson
Elliot
Lucas
Arthur
Josiah
Roman
Emmett
Nathaniel
Dashiell
Rhys
Beau
Jonah
Hudson
Lincoln
Harrison
Julian
Charlie
Noah
Rowan
Samuel
Matthew
Xavier
Christian
Connor
David
Gabriel
Joseph
Zane
Hunter
Rhett
Weston
Evan
Arlo
Aryan
Maddox
John
Maxwell
August
Daniel
Harry
Griffin
Tobias
Cohen
Cole
Comments