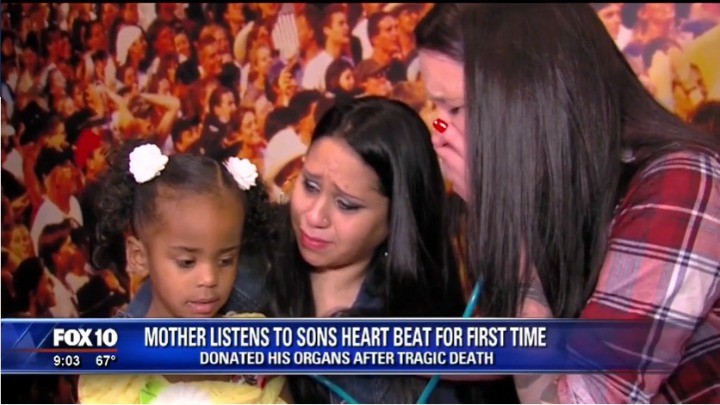 This young mum's story is almost too much to bear. In 2013, Heather Clark left her seven-month-old with a babysitter she thought she could trust, then went out for the night. The boyfriend of her babysitter then allegedly abused baby Lukas and he died later from his injuries.
Somehow, in the midst of the most devastating moment of her life, Heather found the strength to commit her son's vital organs for donation. Her 'miracle baby' saved three lives.
Both Heather and one of the recipients of Lukas' organs had the desire to find each other and amazingly, despite anonymity laws, they connected through social media and were able to meet at last.
Little Jordan was born with a congenital heart disease and has spent much of her four years of life in hospital. Her mother told the media she couldn't conceive Heather's incredible gift.
"It's hard to believe she would be so selfless to think of another family when she is going through that much grief."
Yesterday, Heather listened to her son's heartbeat for the first time in thee years in Jordan's chest. #DonateLife pic.twitter.com/KNgqZsGaf4

— Donate Life Arizona (@DonateLifeAZ) January 30, 2016
The moment that Heather met Jordan and then had the opportunity to hear her son's heart beating in her chest will give you shivers. What a wonderful way to honour her lost son.
"He was just so outgoing, he was just a little ham," said Heather. "If there was a camera in front of him he was either smiling or sticking his tongue out."
"I couldn't save my own son, why wouldn't I save some else's?
The Australian federal government has today committed to improving rates of organ donation in Australia, the ABC reports. One of the strategies will be an online consent form that allows people to nominate themselves as donors.
Would you want your organs donated? Have you been in a situation where the question of organ donation has been involved? Share your thoughts and experiences.
Comments