The lost art of pen pals: How to find one in 2015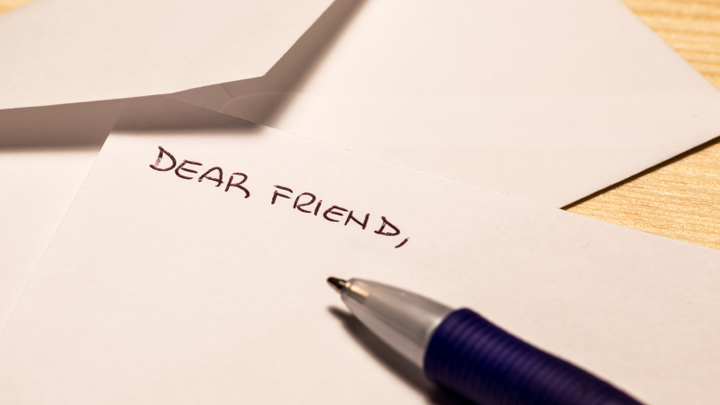 In our ever-evolving digital world it seems some precious things we once took for granted are now quickly disappearing. One of these things is the joy of writing and receiving handwritten letters from friends and family. Another similar joy was receiving a letter from a pen pal.
Pen pals were a way for us to connect with people all over the world that we may never had had the chance to meet, yet they held a special place in our minds and hearts.
Now, our grandchildren barely know what the concept of pen pals is let alone have one. We do have to be careful though as giving away addresses can be risky but one would argue that we already give enough away online.
We've had a look into the best websites where you can find a new pen pal and get writing again. One of the benefits of the internet is that although it has somewhat replaced handwriting, it is a useful tool for finding people to connect with offline.
Here's 9 places you can find wonderful new friends from anywhere in the world.
Ad. Article continues below.
This Tumblr site is a non-profit organisation that helps people in tough or tragic situations feel loved and accepted through the art of handwritten letters.
According to the Australian Government Department of Defence, they "welcome all expressions of public support for our people deployed on operations overseas.
Ad. Article continues below.
One way to show support is to send an email message to the troops at [email protected]. These emails are widely circulated and much appreciated by Defence members".
Practice your language skills with a pen pal from a country that speaks a language other than English. The best part is that it doesn't matter what level you are in learning a foreign language – it's all about fun. For example, if you are learning Spanish, you can find Spanish pen pals in the country or city of your choice.
Ad. Article continues below.
PenPal World allows you to find as many pen pals as you want. All you need to do is sign up and start searching for members all over the world – there's more than 1 million!
5. InterPals
InterPals brands itself as a online correspondence, cultural exchange, and foreign languages learning hub and is the ultimate international pen pal page. It's been around since 1998 and their original mission remains the same: to help people meet friends from all over the world for free.
Ad. Article continues below.
IPF has been around since 1967, if you can believe it. That means this service predates the internet, so they know how to connect pen pals on and offline very well. The site has services catered to certain groups of people, with a service for over 60s looking for pen pals.
Ad. Article continues below.
Don't be put off by the claim that this is the 'biggest and the best' prison pen pal exchange online, it's just another way to connect with interesting people. It's easy to forget that sometimes people in prison can be there for a myriad of reasons and may not necessarily be a bad person.
Well known refugee advocate and barrister, Julian Burnside QC, is embarking on a letter writing campaign to let asylum seekers in Nauru and Manus Island know they are not forgotten and we care about them.
Ad. Article continues below.
The campaign encourages non-specific letters to be sent to Mr Burnside (with your self-addressed envelope inside) who will pass it on to a specific asylum seeker on Manus Island or Nauru. When you receive a reply, keep writing to that person. If you want, you can ask them for the names of other people you can write to.
This is a really amazing project that uses postcards. The goal of the Post Crossing project is to allow people to receive postcards from all over the world, for free. Well, almost free! The main idea is that: if you send a postcard, you will receive one back from a random Postcrosser from somewhere in the world.
Tell us, when was the last time you wrote a letter to a pen pal? What was their name and what did you talk about? What are they doing now?