The incredible new test that uncovers your family story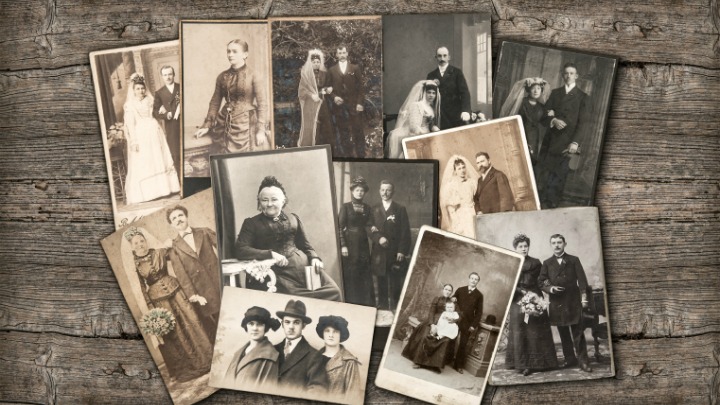 In the world of family history, we reckon it doesn't get much more exciting than this: a new test, released last week, can pinpoint, with incredible accuracy, your ethnicity.
DNA testing is the latest offering from Ancestry.com that uses a clever new method of DNA testing to tell you which countries you're from (based on the past few hundred years).
Here's how it works: you provide a saliva sample (ok, spit into a tube) and post it away to be analysed and compared to the existing database of 850,000 people's DNA. Six to eight weeks later, you are emailed the results in percentages, for example, you might find yourself to be 40 per cent British, 25 per cent German and 35 per cent Greek.
Your results are stored online and you are alerted to any relative matches already in the database.
We thought this was fascinating, so contacted the company to find out more.
Ad. Article continues below.
As commercial director for Ancestry Australia, Brad Argent was one of the first to use the DNA test here, and found a relative who was previously "lost to the ages".
Mr Argent had built up a fairly complete family tree tracing his family back to the UK but there was one relative unaccounted for, a man named Prideaux who, despite having such an unusual name, did not appear on any records after his birth.
When he received the results of the DNA test Mr Argent was surprised to find he had a fifth to eight cousin in the US.
"It turned out the woman I was matched with was the daughter of a third cousin. She'd built up her family tree and the parents of the missing man were there, only on her tree there appeared someone called Patrick. She sent me a photo and he looked just like his brother George; I knew I'd found my missing relative".
With this new information, Mr Argent was able to piece together the story of two brothers, one who went to Australia and started Mr Argent's family line, and the other who ended up in America.
Ad. Article continues below.
While Mr Argent is understandably excited about the test, he points out that it is a tool that probably leads to more questions, rather than one that provides answers.
"Ultimately, family history is about telling the story and while DNA testing can give you results than give you the impetus to dig deeper, it's up to you to fill in the gaps and find out the whys and the hows of your family history," he told Starts at 60.
Apparently the new offering has had "phenomenal" success since its launch in Australia (the test has been available in the US, UK and Ireland for some time).
"As a nation of immigrants, we have a yearning to learn about ourselves," says Mr Argent, who first got hooked on his family history while helping his father commit what he'd discovered to the computer.
A quick poll of the Starts at 60 office found that everyone here would jump at the chance to know their true ethnicity so we're not surprised to hear the test is going well in Australia. What is it that compels us so?
Ad. Article continues below.
"It's a journey of discovery of the self. We start out telling stories of our ancestors but really we're telling the story of ourselves," says Mr Argent. "Proust once said the dead annex the living, suggesting they reach out and control us, but I think what happens now is the opposite, particularly in a world that is increasingly homogenous – we look for what makes us different".
The AncestryDNA test costs $149, more information is available here.
Calling all family historians: are you excited about this test? Would you want to know what your DNA says you about your ethnicity? 
Please be advised, Starts at 60 did not enter into any commercial arrangement with Ancestry.com on this post, we thought this topic was fascinating and wanted to share it with you!