The grandparent deficit: growing up without Nan and Pop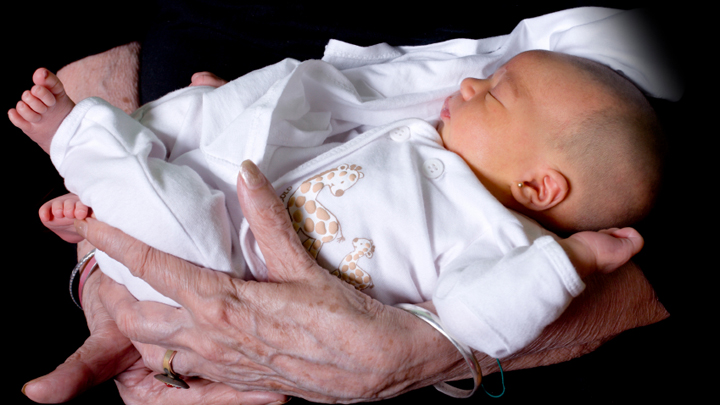 How old were you when you became a grandparent? Perhaps you're still waiting for a grandchild to arrive. With many of our children starting their own families much later in life, some of us may have to wait a lot longer to proudly wear the badge of Grandma or Grandpa or sadly we may never get the chance at all.
In the United States, they're calling it the 'grandparent deficit', where young children are growing up without active grandparents in their lives because they were born to late-blooming parents themselves.
Time Magazine's Susanna Schrobsdorff came up with the phenomenon after observing her 5 year-old niece during a nursing home visit.
"Sahar comes frequently to have meals with my dad, her grandfather. He's 81, and she doesn't know what he was like before dementia took hold. Nor does she remember her grandmother who died four years ago, except in the funny stories my sister tells …
"She and my two daughters are among a growing number of kids who will see their grandparents primarily as people in need of care rather than as caretakers. They are the leading edge of a generation whose mothers and fathers had children later in life".
Ad. Article continues below.
The journalist, who had her second child at the age of 39, writes – "somehow while we were worrying about our biological clocks and our careers, it didn't occur to us that another biological clock was ticking down: that of our parents' health.
"… I do know I'd give anything if my kids could have one more weekend at the beach with my parents in peak grandparenting mode – full of silly jokes and poetry and wry observations from extraordinary lives lived fully".
And the 'grandparent deficit' could be even greater for the next generation according to Time's Assistant Managing Editor. If her daughter has a child at 39, as a grandmother she'll be over 80 years of age when that grandchild enters preschool.
Schrobsdorff says she won't be alone in the face of data which shows around six times as many children were born to women aged 35 and older in the US in 2012 compared to 40 years ago.
The statistics are likely to be similar in Australia where an increasing number of women are delaying having children to forge out their careers first before finding the right partner to start a family with.
Ad. Article continues below.
For those desperately wanting to be a grandparent, it could be a long wait. When a grandchild finally does arrive, with the generation gap between grandchild and grandparent so much wider, the quality of that relationship could be very different than first imagined.
How about you? Can you identify with the 'grandparent deficit'? Are older parents running the risk of having no grandparents in their children's lives?
Do you find there's a bigger age gap between you and your grandchildren than you had with your own grandparents? And how does that effect the quality of the relationship you have with your grandchildren?