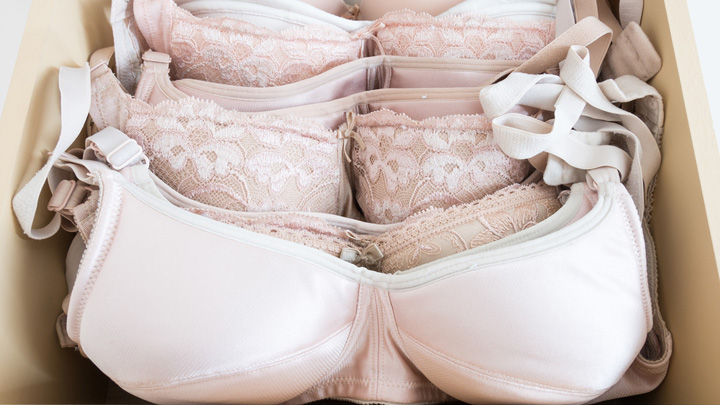 Bras are so important in a woman's life but how often do we really give them some thought? Wearing an ill-fitted bra can lead to health problems yet it's estimated 2 in 3 women are wearing the wrong size. That's a lot of ladies!
By your 60s, your size may have gone up and down several times – according to a study of 500 women, the average woman's breasts will "change shape, size and distribution at least six times during the course of her life".
This is why it's so important to have a properly fitted bra, and different ones for different clothing and day-to-day use. Getting fitted is easy and you can get it done at most department stores and any lingerie or bra shop. You'll be guaranteed to feel instantly confident and comfortable, not to mention you may have gone up a size!
Here are the four bras all women in their 60s should own:
1. Seamless bras with a little padding
A great seamless bra will not only have a lack of seams, but will be very comfortable and breathable. This type of bra is great for a t-shirt and can smooth out any lumps or bumps.
Things to look for in a seamless bra:
Colour – will you wear a lot of white? If so, go for skin colour. If you wear darks, another colour will work!
Does it look smooth under your shirt?
Is the padding comfortable?
Does it give you a natural lift?
2. The push-up
The push-up bra is a go-to if you want padding, underwire support, and a whole lot of lift. There are sexy push up bras, and ones that are just plain so you can get an added lift in sheer fabrics or if you don't want little diamontes poking everywhere.
Things to look for in a push up bra:
Spillage – do your breasts spill out the top? If so, go up a size.
Is the push-up too exaggerated or just right?
Do you like a gel cup or padding?
Does it have convertible straps?
3. The sports bra
These aren't just great for wearing when you work out – sports bras can have a fashionable use in your life as well. They are usually made from very breathable fabrics and may contain mesh and cute patterns on them.
Things to look for in a sports bra:
Comfortability – can you run in this bra without your breasts hurting?
The bounce test. Never buy a sports bra without first jumping up and down, and side to side in the changing room with it on. You may get some funny looks when you come out but it's the most reliable way to check if a sports bra is going to work for you.
Try stretching a bit too, this will make sure you have a good range of movement in it.
Look for any bits that could cause chafing. There could be a bulky join on the strap that could rub, or if it has an underwire that isn't fitting you quite right and digging in that could end up quite painful after a workout.
How do the straps feel? Are they wide and comfy or digging in?
4. No-underwire, soft cup or bralette
For days when you want a little support but want to take it easy or have a break from a wired bra, a bra without is perfect. Some bras actually can come with removable underwire so you can do it both ways.
Things to look for in a soft cup bra:
If you have bigger breasts, this may not be a good option
Does the cup sit properly without rolling underneath?
Do you have nipple protection?
Tell us, what type of bra do you like to wear?
Comments