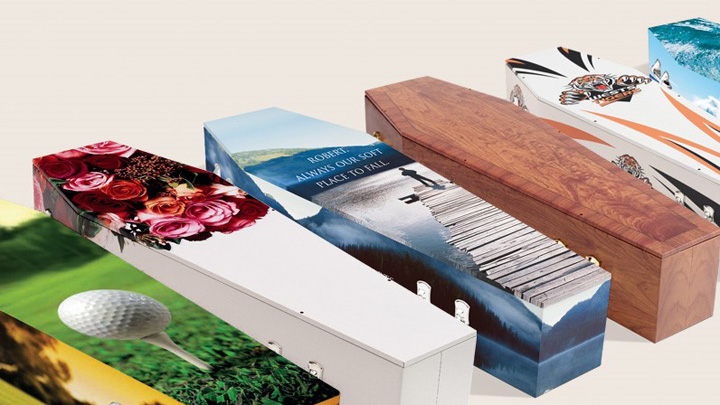 We don't often talk about coffins and death here at Starts at 60, but because we do see comments about the cost of funerals from time-to-time, we thought we'd share the latest trend in coffins with you.
According to Sambo Sab, the boss of Coffin World, bereaved Australians are sick of paying too much for coffins and funeral arrangements.
Mr Sab told Fairfax he began his distribution business after enduring several close relations' deaths and feeling dissatisfied with the traditional experience.
"It [the funeral industry] is very profitable. Just imagine, in a typical service, you may have 30-40 people so you will need one or two hours of food catering, maybe a chapel, hearse hire, a coffin and you are usually looking at a total cost of $7000 or $8000".
"I saw how they [traditional funeral directors] walk you in and usually have two [coffins] on show; a cheaper option and another option usually for about three times' the price and I found that practice predatory.
"These families are experiencing their most vulnerable times and I came away wanting to change the funeral industry so it's not all so controlled by a few large companies. There is need for affordable funerals.
"Up to 50 per cent of funeral cost is often just the coffin cost so [cheaper coffins] is a way to save a huge amount of money."
It looks like Mr Sab is right on the money when it comes to the stats: ASIC numbers reveal the average Australian funeral costs between $5000 and $14,000.
So, what alternatives are there? The company LifeArt Australia manufactures personalised coffins, ranging from their special range of coffins that are covered in photos of just about anything you can imagine: nature, hobbies, even just plain colours; to a coffin covered in your own photos, or one you can personalise with handprints and handwriting.
According to their website, "LifeArt Australasia is an innovative Australian company that is dedicated to making funerals more personal and special. We achieve this by making beautiful, personal and emotional coffins.
"Families tell us that choosing a LifeArt coffin helps them focus on celebrating the life being remembered and cherished.

A LifeArt coffin says that grief won't defeat the memory of a loved one, and it says that looking after the planet is also an important consideration".
Greg Bisset, the chief operating officer of InvoCare Australia, who owns White Lady Funerals, Simplicity Funerals and LifeArt Australia, said "The baby boomers are primarily driving it, either for themselves or their parents because they want their funerals to be a celebration of life and these products allow personalisation.
"It is not taking over the market domination of the more sombre, traditional silver coffin but it is another option".
Another growing trend is the cardboard coffin, which readers of Starts at 60 have told us they feel would be a good option for themselves or a family member. Fran said, "I would love it. A cardboard box with poetry written by my son on it. Cremated then ashes thrown out to sea. That's how I want to go", which was echoed by Dana, who said she would like her coffin personalised: "Great idea. I would love to have mine painted with surfboards, outrigger canoes and dolphins – the things I love most and Aloha written on the front".
So tell us today: Do you think these brightly coloured coffins are a good idea? What about the cardboard ones? Does it matter? Do you find funerals too expensive?
Comments