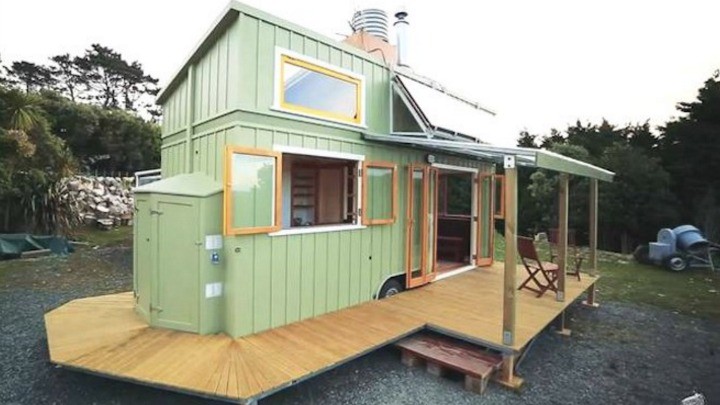 Starts At Sixty has previously covered the tiny house movement, when people choose to downsize into compact homes. Now Aussies and Kiwis alike are following this trend!
A rising number of tiny houses are popping up across Australia and New Zealand, with some home buyers feeling "priced out" of the property market otherwise.
Living Big in a Tiny House author Bryce Langston says, "There is no one single personality type that suits downsized living".
"Some tiny house occupants are young and just wanting a stepping stone to get ahead in life… Others are retiring and wanting to downsize to a smaller space, that's easier to manage".
"I suppose one thing that they do generally have in common is that they are drawn to a simple way of life", Mr Langston added. "They are more excited about gaining experiences than material possessions".
Here are some of the best tiny houses across Australia and New Zealand. Could you live like this? Share your thoughts below!
Tour a super efficient tiny house built for $77K https://t.co/b6PERxsS1S pic.twitter.com/zvMNPOtBnW

— Curbed (@Curbed) February 23, 2016
Foxtel's Tiny House Australia with Andrew Winter follows couples as they downsize https://t.co/1zCuB4ryLK pic.twitter.com/wY4isTpuFr — pakstatus (@pakstatuscom) December 31, 2015
Tiny House Australia is on @Foxtel captioned by Ai-Media.
TV guide in link. #CaptionsMatterhttps://t.co/9Z5AxnOyG7 pic.twitter.com/6SfNCrAQhl

— Ai-Media (@accessinclusion) January 4, 2016
We talked to creators of Living Big in a Tiny House- one of NZ's most popular YouTube channels http://t.co/FyI16ZzbNM pic.twitter.com/ZX5knAbAAg — New Zealand Web Fest (@NZWebFest) July 2, 2015
Couple Creates A Tiny Sustainable Three Story House Truck – Take A Look Inside #Australia http://t.co/GlgyjaBbFC pic.twitter.com/u9MWMFbAkE

— Trending Disasters (@Disastrolizer) May 20, 2015
The tiny house trend hits Australia http://t.co/VqEVVufOoF @1millionwomen #tinyhouse #tinyliving pic.twitter.com/GlSpggMugO

— Harwyn (@HARWYN) May 31, 2015
12 Beautiful & Creative Tiny House Lofts – Living Big In A Tiny House http://t.co/N03Ms9NMUt pic.twitter.com/ieYsAiPH8X

— Ecokit (@ecokit_homes) September 29, 2015
Couple transformed a school bus into a tiny mobile home #house #Australia
https://t.co/DTuo0P8SXl pic.twitter.com/yueQTfupun

— Hockeys Property (@hockeysproperty) December 12, 2015
Tiny house movement hits Australia #investmentproperty #australia #news #investinginproperty #australianinvestment pic.twitter.com/ktsubIapm3

— Aussie Property News (@apnaustralia) October 2, 2015
The Tiny House trend has hit Australia! What a beautiful trend it is http://t.co/xg4sYhYz9S pic.twitter.com/DMekEZvkyo

— 1 Million Women (@1millionwomen) May 27, 2015
This tiny, ultra-efficient Passive House was built in just 10 days in #Australia http://t.co/glUiZVSN1o pic.twitter.com/pjYxo496ti

— Architects Newspaper (@archpaper) February 10, 2015
Comments