The best 14 cleaning tricks you'll ever need (and probably didn't know)!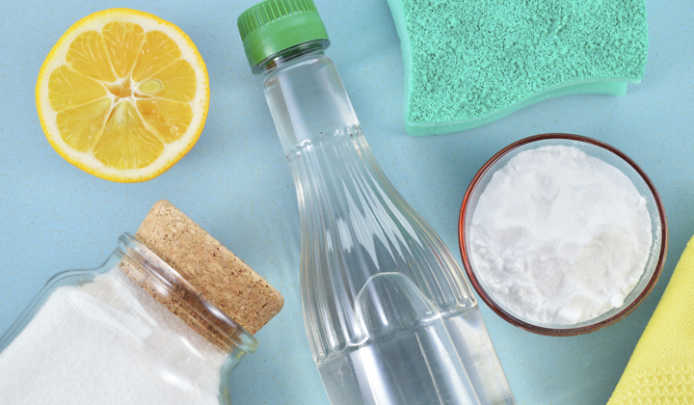 When it comes to cleaning, it can feel like we know it all and have done it all…but the internet just keeps surprising us! If you have been stumped on how to clean that stain or polish that item, then look no further than this list! You could find out something you never knew that could save you time and money.
1. Baby powder to prevent stains
Sprinkle a little on the shirt's underarms and collar, then iron to prevent sweat stains on white shirts. The powder forms a barrier that keeps oil and grime from seeping into the threads.
Ad. Article continues below.
2. Clean faux-suede/microfibre couch
All you need is a spray bottle, brush, white sponge, isopropyl alcohol. Make sure you get a white sponge and white bristle brush so that there is no accidental colour transfer onto the couch when you are scrubbing. Pour the rubbing alcohol in the spray bottle and saturate the stained area. Let dry then take your bristle brush and with swirling motions, refluff the areas you cleaned. Done!
3. Grease-free floors
1/4 cup white vinegar
1 tablespoon dishwashing liquid
1/4 cup sodium carbonate
8 litres hot water
Place all the ingredients into a bucket and mix well until sudsy and mop
Ad. Article continues below.
4. Remove nail polish from carpet
If you have light or white carpet use a non-acetone polish remover; if it's dark, try pouring on hairspray or rubbing alcohol and then blotting the polish up with a sponge or paper towels.
5. Clean a porcelain sink or bath
Ad. Article continues below.
All you need is a melamine sponge (found at hardware stores or supermarkets) and a small amount of liquid cleanser (not Ajax), plus some elbow grease. Your bath or sink will be sparkling in no time!
6. Miracle carpet stain remover
You just need ammonia, water, an iron and a white rag. Fill an empty spray bottle with 1 part ammonia and 1 part hot water. Sprayed liberally on the stain, lay the clean white towel on top of it and started ironing away!
Ad. Article continues below.
7. Clean broken glass quickly
The next time you break a glass, sponge up the shards with a slice of bread. Even tiny slivers will cling to it.
8. Dust your TV or computer screen
For lint-free viewing, use a coffee filter to wipe down dusty and staticky computer monitors and TV screens regularly.
Ad. Article continues below.
9. Streak-free stainless steel
Buff streaks out of stainless steel with a little olive oil on a terry-cloth rag, then shine with a dry paper towel.
10. Remove lipstick from collar
Ad. Article continues below.
Kiss that lipstick smudge goodbye by saturating the spot with hair spray. Let it sit for 10 minutes, then dab with a damp cloth or sponge to remove. Wash as normal to wash out any residual stain and spray.
11. Get baked on grease off glass casserole dish
To get baked-on food off a glass pan or an oven rack, use dishwashing liquid and a ball of foil in place of a steel-wool soap pad. Voila!
Ad. Article continues below.
12. Clean vases with egg shells
Use broken eggshells to clean hard-to-reach places in vases. Drop some crushed shells in the bottle, add warm water and a drop of dishwashing liquid, and give it a good swirl. The shells will scrape off the gunk you can't get to.
13. Swipe out small stains out of suede shoes
Remove small stains from suede by gently rubbing a nail file (either side) across the area a few times to get rid of the splotch and refresh the nap.
Ad. Article continues below.
14. Remove coffee or tea stains on mug or tea cup
Rub them with a lightly salted citrus peel.