The amazing way first-world grandparents are helping third-world kids learn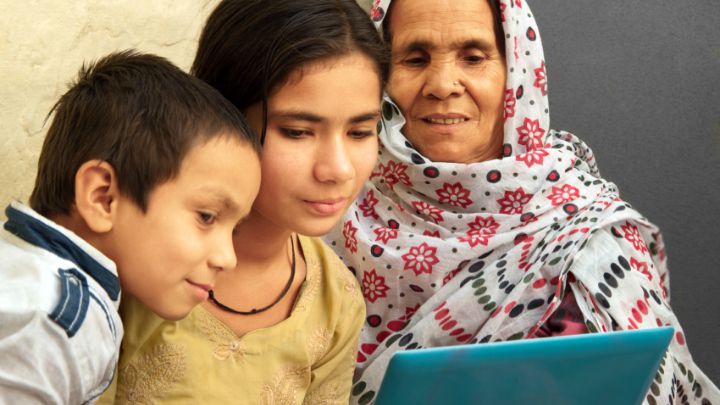 Children in rural and deprived areas of India are benefitting from help at school. But the help isn't coming from teachers or tutors, the support is delivered via Skype by a band of committed Grandmas in the UK.
The caring and patient volunteers sit in the comfort of their own homes and, via Skype, read to groups of children in the Indian city of Pune.
Professor Sugata Mitra, who is known as the "slumdog professor" developed the idea of the School in the Cloud, officially known as  Sole (self organised learning environments). It started after he had another idea to engage poor children in India with technology.
Professor Mitra developed a hole-in-the-wall computer scheme, which put basic PCs into deprived areas where children had no access to computers and were largely illiterate. Within a short time the children's curiosity got the better of them and they began to play with the computers. They moved swiftly on from button pressing to cutting and pasting, and downloading games and music.
The theory was that children could learn with little or no intervention. But then the professor applied caring, kindly adults to provide the children with just a little encouragement and discovered the children's skills progressed even more quickly.
Ad. Article continues below.
The idea of a "Granny Cloud" grew from there.
Prof Mitra's vision was for a band of volunteers to provide encouragement and praise and become a "virtual granny" for children who may not have access to an educated adult.
The volunteers (who don't strictly have to be grandparents) aren't teachers and they don't take formal lessons, but they do read stories and chat to the children about their lives and things they might be interested in from the UK.
There were now around 300 "grannies" and the idea has spread to some less well-off areas in the UK, where "Skype Grannies" are now helping British children with their reading.
What do you think of this idea? Is your grandchild's school making the most of "Granny Power"?