The absolutely beautiful moment you missed in Parliament this week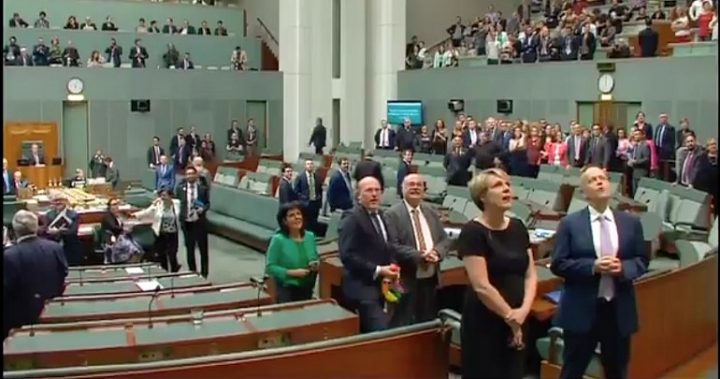 Australian politics experienced one of its most triumphant moments in years this week when the same-sex marriage bill finally passed in Parliament and became the law of the land.
After months of campaigning on both sides of the debate, there were plenty of cheers and applause with the Speaker of the House finally declared it was official, with MPs putting aside their political differences to celebrate the win.
With all the jubilation that followed however, one very special moment almost when unnoticed by much of the country.
Hundreds of same-sex marriage supporters had gathered on the balcony in Parliament to witness the big moment, and as MPs prepared to leave the chamber the group broke into a spontaneous chorus of Peter Allen's much-loved song 'I Am Australian'.
"We are one, but we are many," they sang, with several politicians joining in. "And from all the lands on earth we come. We'll share a dream and sing with one voice. I am, you are, we are Australian."
Ad. Article continues below.
Public gallery erupts into chorus of 'I Am Australian' after Parliament votes to legalise same-sex marriage #auspol #SSM pic.twitter.com/uuoePCJamD

— ABC News (@abcnews) December 7, 2017
Video recored by the ABC shows MPs from both sides of the aisle wiping tears from their eyes as they looked up to the balcony and sang along.
It was a special moment that highlighted the overwhelming support the Yes campaign received during the debate.
Australia voted 62 per cent to 38 per cent in favour of same-sex marriage, with only four MPs voting no in Parliament and about 10 abstaining.
Ad. Article continues below.
The Governor General signed the law to legalise same-sex marriage on Friday morning, completing the legal process and formally changing the Marriage Act.
An elated prime minister Malcolm Turnbull said passing the bill was one of his proudest moments as PM.
"It is a big Australian hug for all same-sex couples," he told Channel Nine in a TV interview.
"We love and respect you. Now go out there and get married," he said.
Did you catch this special moment when it aired? Does this song ever make you feel emotional?