The $25 million Steve Irwin movie: Who will play the Croc Hunter?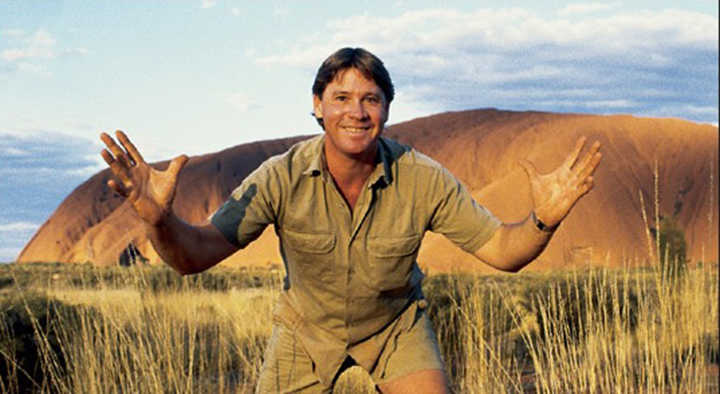 In the nine years since Steve Irwin's untimely death, the late conservationist's family has been very protective of his legacy.
However, according to The Daily Mail, his wife Terri and daughter Bindi have "warmed to the idea" of a Hollywood biopic telling his life story.
A New Idea magazine story claims Terri had turned down several ideas pitched to them – even an authorised documentary by the BBC. However, with the 10th anniversary of Steve's death approaching next year, it's never been a better time to tell his story.
The magazine, which claims the now-Los-Angeles-based family could earn $25 million from the deal, says Terri and Bindi are now considering casting ideas.
"Bindi really wants Hugh Jackman to play Steve", says their source.
Ad. Article continues below.
"She thinks Hugh is just like her dad in many ways – loved, dependable and internationally renowned".
"Both Bindi and Terri want this to be a serious film with a serious cast".
The magazine also suggests Terri is looking to find a "breakout role" for Bindi in the film. She has already done well to take up her Dad's mantle as a TV personality, with plenty of her own shows over the years (Bindi the Jungle Girl, Bindi's Bootcamp) and an upcoming appearance on Dancing with the Stars.
Even if – heaven forbid – this gossip magazine piece is not 100% true, it's hard to believe Hugh's name not coming up in discussions.
Whether Jackman himself would be keen on the idea is another matter. The star's popularity could not be bigger right now. Having managed to become a Hollywood A-lister and adapt his life story into a hit Broadway show, he's in the enviable position to take or leave almost any job that comes his way.
For our part, we think he'd absolutely nail the role.
How do you feel about the idea of Steve's life being adapted into a film? Would Hugh Jackman make the ideal star?