The 21st century man versus the men we once knew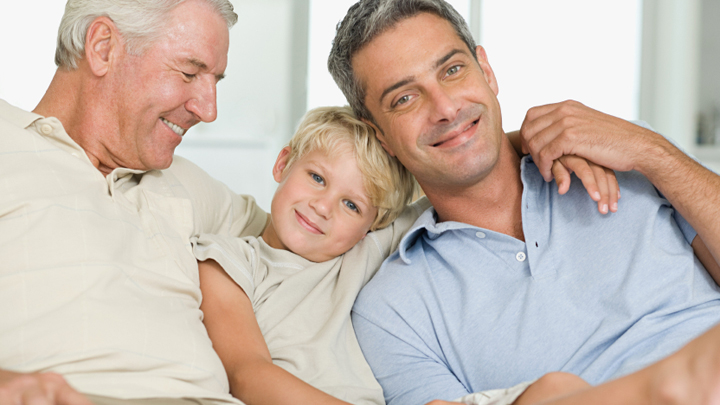 Throughout history, men have been the strong, providing type. They had no time for emotions – the men had to work and provide for their families. They were forced into the traditional stereotype from birth, becoming the protectors of the women, girls and setting the example for their brothers, sons and nephews. But now, the role of a man has completely changed in society. Is it for the best? Or do we long for a responsible man who has those values we could rely on?
There are so many images that come to mind when we think of a man in the 21st century. There's the stay-at-home dad, the eternal bachelor, the goofball, the gym junkie, the sensitive new age guy, the 'metrosexual', the caring and nurturing man, the I-don't-do-washing man, the barely-there father. But no matter what, the huge variety of men completely changes the world we live in today and most noticeably, chivalry is well and truly dead! We've pretty much said goodbye to the old-fashioned manners and opening doors for ladies and so on – our daughters and our granddaughters know little of these customs and are very used to doing things for themselves.
So, what type of man is your son or your grandson? Are they kind and sensitive? Or are they about bravado and saving face? Do they show their emotions readily or do they hide them?
One of the positives of men changing from the cookie-cutter world perspective of manliness is that men feel more relaxed and have become more hands-on in their children's lives. We come from that generation where Dad would go out early in the morning and come back in the evening. He would barely be home because he would have to work long hours and sometimes even two jobs. He was the provider, but he didn't always have time to provide that love and attention a child needs. It's something we can be pleased to see in our own sons now and as our grandsons grow, we see them valuing family time much more (although our dads could've if there was more gender equality in the workforce for all of our mums to work too).
Ad. Article continues below.
Nowadays families are much different – some have one dad or one mum, two dads or two mums, or multiples of each. There's no normal or perfect family anymore, taking the stress off the so-called nuclear family. With this, dads don't face the societal pressure to be that provider and can feel like scrutinised for staying at home, although there still is some stigma surrounding the stay-at-home dad role.
The internet has also made men more vain and aware of their appearance and how they are shown to the outside world. Some meticulously style themselves in the mirror and have wardrobes to envy their female counterparts. Others are slovenly and couldn't care less! Don't get us started on the gym junkies and their 'selfies' – the men can be the biggest culprits of this: pumping iron and showing off their muscles. How did we get here? It's hard to say, but the digital world enables men particularly to express their emotions and likes and dislikes in a much more acceptable environment. And now, with the advent of online dating, men can easily find a match with the swipe of a button.
According to The Shriver Report Snapshot, today's man wants to be both a provider and a present partner, defining his ideal life through his success within his family via positive relationships with his spouse or partner and children over his professional and financial success outside of the home.
Dove have just launched their 'Real Men' campaign to encourage society to challenge the idea of what a real man is. Promisingly, a new survey of Australian men found 86 per cent agree the concept of masculinity has changed since their father's generation, and nine out of 10 believe showing care is a sign of strength.
Ad. Article continues below.
"It's an interesting time for men in Australia, with a new idea of real strength emerging. The research shows that men believe masculinity today is measured beyond traditional notions of power, affluence and physical strength, yet the overwhelming majority think the way masculinity is depicted in the media doesn't reflect this shift," said Unilever marketing director Jon McCarthy.
"We want to start a conversation about a man's true strength. The Dove Men+Care 'Real Strength' campaign aims to celebrate the caring character of today's man, recognising how care for himself and others makes him stronger".
62 per cent of those surveyed said they do not feel comfortable crying in front of others for fear of weakness.
Jono Fisher, founder of The Wake Up Project told B&T Magazine, "While it's great to hear men respect others who show vulnerability, most men still feel uncomfortable showing vulnerability themselves. It really highlights the importance of starting a new conversation around what constitutes real strength in a man. These conversations are about giving men permission to be more emotionally honest in their family lives, workplaces and in society at large".
Here is a clip from their new campaign:
Ad. Article continues below.
It is clear that the picture of a man is evolving and changing. As parents and grandparents of both boys and girls, we should be excited about the evolution of men and how we're moving towards a more gender-respectful society and narrowing the divide between what both a man and woman is and represents so we can all be able to be caring and fulfilled without societal pressures.
Tell us, what was a man like when you were growing up? What kind of man was your dad? What are your sons like? Do you prefer the 21st century man?