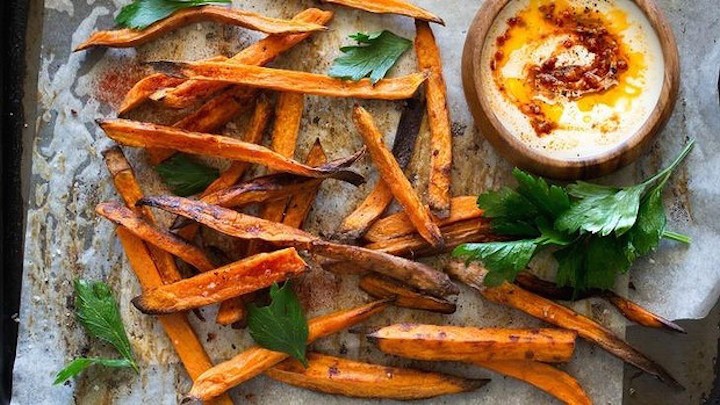 Next time you get a craving for chips, reach for this delicious (and much healthier) alternative instead. Try dipping them in aioli, or your favourite sauce.
Baking: 30 – 40 minutes   –   Serves: 6 (as a side)
Ingredients
700g sweet potatoes, peeled
1 tbsp olive oil
1 tsp smoked paprika
1 tsp ground cumin
sea salt and black pepper
1 egg white, beaten
1 garlic clove, finely grated
1 tbsp finely chopped parsley
Ad. Article continues below.
Method
Preheat oven to 200 degrees and prepare a baking tray by lining it with baking paper.
Slice the potatoes into long strips, 1cm wide.
Combine the olive oil, smoked paprika, sea salt, pepper, and cumin and then toss the potato fries in the mixture.
Scatter fries over the baking tray and bake for 20 – 25 minutes, turning once.
Once baked, remove fries from the oven and toss in a mixture of beaten egg white, parsley, and garlic.
Raise the temperature to 210 degrees and return fries to the oven.
Bake for a further 10 – 15 minutes, but check regularly to make sure they do not burn.
Serve hot.