Sustainable living could save all of your problems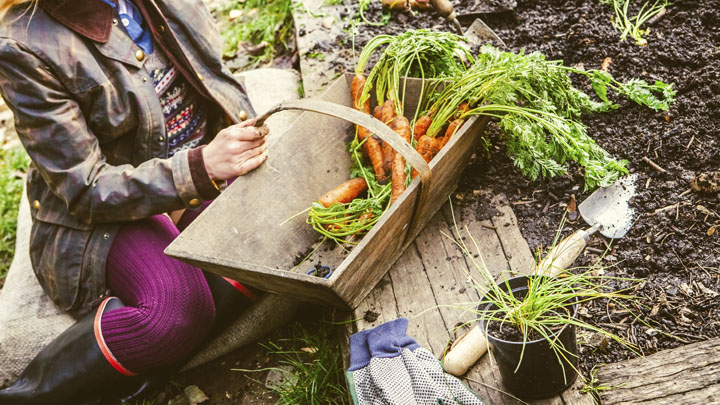 Just a few days ago I went to my local supermarket and forgot my green bags. After hauling six bags of store-purchased, overpriced packaged food and fruit and vegetables in plastic bags to the car, I realised three things. I wasn't eating naturally as many things were pre-prepared and pre-packaged, I was eating fruit and vegetables that had been sprayed with chemicals and pesticides and I was creating more rubbish by taking home six extra plastic bags that I didn't need.
Just one trip to the supermarket did more damage to my health, the environment and my wallet. So I began to investigate ways to stop this cycle and start living a healthier and more sustainable life… This is what I found.
What is sustainable living?
Sustainable living is upholding a lifestyle with equal care for social, economic and environmental concerns and parts of life. This means finding an intersection between economic value, environmental care and social wellbeing and consideration.
Ad. Article continues below.
What are the benefits of sustainable living?
There are so many ways to live sustainably. And the thing is, that everyone can start living sustainably – you just have to make small changes to your everyday life. These changes can have huge benefits that can be segmented into economic, health, and environmental and social benefits.
The economic benefits:
By living a more sustainable life, you can enjoy huge financial savings. By doing things like setting up your own vegetable or fruit garden, you can begin saving on the fresh produce that is normally expensive in supermarkets. When you are environmentally conscious about your everyday life and begin to think about reducing your energy, fuel and water consumption, these actions also have huge financial benefits as using less resources costs less per household or vehicle.
Ad. Article continues below.
The health benefits:
By eating fresh produce from your own garden to table, you know you are eating foods free of harsh chemicals and pesticides that can break down your immune system. By also using alternative modes of transport like walking and cycling between places, you will also increase your weekly exercise time which will also help to keep you fit.
The environmental benefits:
By eating more naturally (and from your own garden!) you will begin to stop using plastic shopping bags and using the fuel that it takes to drive between your home and supermarket. The changes in your energy, fuel and water consumption will also have environmental benefits as you are using less electricity and water as well.
The social benefits:
Ad. Article continues below.
By having interests in this area you can keep constantly educated as you learn new skills like gardening and cooking, you will also begin to find likeminded people who you can exchange sustainable living ideas and tips with – giving you your own little network of people.
The benefits can contribute to you living a healthier and happier life but how do you get started? These handy tips can help you…
Plant a vegetable garden
Cut your showers by two minutes
Convert to a water efficient shower head
Sweep your driveway instead of hosing
Use a water efficient washing machine
Use a dual flush toilet
Reduce the time you water your garden.
Switch off unused lights
Turn off power at the wall
Use natural heating or cooling through the house (increase airflow to create cooler spaces or use dark curtains and closed windows to create warmer spaces)
Consider switching your energy supply to green power
Recycle all products
Buy and use recyclable products
Create a worm farm and use this to fertilise your fruit and vegetable patches and recycle food scraps
Ad. Article continues below.
So tell us, do you live a sustainable life? Are you doing many of the tips mentioned above? Tell us about your sustainable living choices in the comments below…