Young royals become Santa's little helpers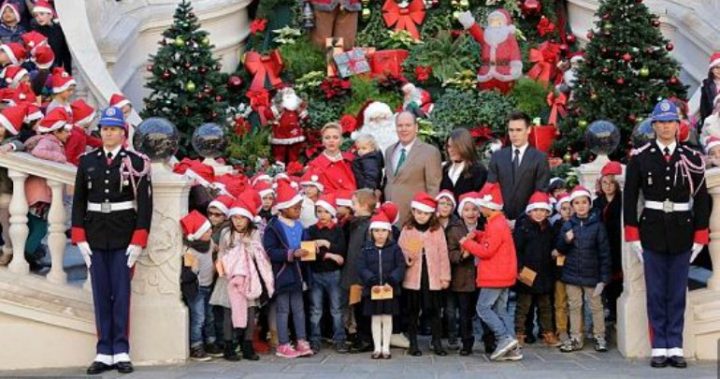 They might have celebrated their second birthday only recently, but royal twins Princess Gabriella and Prince Jacques have joined their parents Princess Charlene and Prince Albert of Monaco in helping to spread the joy of Christmas.
The dynamic duo stole the show this festive season, assisting their parents to distribute Christmas presents to some lucky children in what has become an annual event at the palace.
It is the first time the twins have attended, and were completely adorable as they walked hand-in-hand with their mother and father.
Princess Gabriella donned a cute fur-trimmed anorak, while tights and a pair of plum-coloured boots, while Prince Jacques wore a matching navy coat and stylish denim jeans as he walked beside his mother, Princess Charlene.
Ad. Article continues below.
While the twins demonstrated their best behaviour, there were a couple of occasions where Prince Jacques looked a little unsure of what was going on but joined his mother in waving to the crowds.
For her part, Princess Charlene got into the festive spirit with her bright red coat and pointed silver flats. She embodied casual chic with her stylish grey wide-legged trousers and a white blouse with a subtle gold trim. While Prince Albert had a jolly Christmas tie to show he was enjoying the occasion.
They were all smiles as they handed out Christmas presents to delighted youngsters.
Ad. Article continues below.
The royal twins celebrated their birthday on December 2, and Prince Albert was recently spoke of how great the children are.
"The kids are great," he told >People magazine. "They're running around everywhere, still jumping in and out of the pool up at the ranch [Roc Agel] on a day like today when it's still warm enough here."
What do you think of the little Monaco royals getting involved in such a Christmas tradition? What do you do with your grandchildren around Christmas time? Share your stories with us.