Women of Style: Carmel from Lennox Head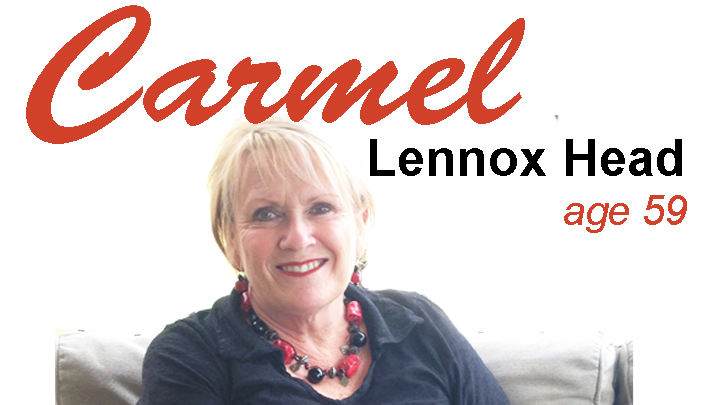 Starts at Sixty Style has a wonderful new column – "Women of Style".
Here at Starts at Sixty we want to celebrate Australian Women's style. We believe that looking good is not only for the young – Australia's over 60s take pride in their appearance. They know what suits them and they want to feel good and look stylish in what they are wearing. Let's take a peek into the lives of some inspiring Australian women…
Carmel
Age 59
Ad. Article continues below.
Lennox Head
Today I have been lucky enough to meet Carmel. She is our first interviewee for our Women of Style column. Not only is she gorgeous, intelligent and warm, but Carmel is also a very talented jewellery maker too. After leaving the corporate world behind, Carmel threw out all of her suits and moved to Lennox Head two years ago.
What does style mean to you?
I think there is a difference between fashion and the way you dress: style is not really about the way you dress, that's more about fashion. I think style reflects who you are as a person – your values and what is important to you. Who you are inside is expressed on the outside. It is like your own brand, I guess!
Ad. Article continues below.
What kinds of clothes do you like to wear?
I like to get dressed to go out, I don't like to be dressed down – I don't like that term at all. People that tend to want to dress down all the time, I think that reflects the type of person that they are – people in their 60s and 70s can be very stylish and fashionable.
How do you like to dress day to day?
I am probably a pants girl more than a dress but I do like A-line, knee-length skirts for summer.
Are accessories important to you?
Ad. Article continues below.
I am a bit of a jewellery person. I like scarves and I picked up a couple of nice ones in Melbourne recently. I do like to wear a scarf as it can dress up or dress down something. . If you go on cruises, which I tend to do as often as I can, you can add a couple of different scarves to a black dress for example, making a couple of different outfits and only having to pack one dress.
Do you like to wear gold or silver jewellery?
I don't wear a lot of gold and silver anymore. I'm not afraid to wear colour: I like beads and chunky statement pieces.
Do you have any favourite brands that you keep going back to?
Metallicus have actually got some quite nice pencil skirts but you wear long tops over them and they're smart for summer. I do like Sportscraft, Jag and David Lawrence.
Ad. Article continues below.
Where do you like to shop?
I don't have any particular shop that I go to but if I see something I like, I buy it. I do find a lot of accessories on the internet. When I am in Hong Kong I like to buy shoes there. I do travel to Cambodia a bit and will take over a pair of sandals that I really like for them to be copied and have a couple of pairs made in different colours as they are not expensive.
There is one shop in Lennox Head called Riley Burnett which has the most beautiful jewellery and some quite different Australian designers. Another store I love is Water Lily in Cambodia.
Tell me about your beauty routine?
Not much more than cleansing and moisturising and I wear sunblock.
Ad. Article continues below.
Do you like to wear make-up?
When I am heading out I like to wear a tinted moisturiser, creamy blush, mascara and define my eyebrows with the Bobbi Brown brow palette. If I don't wear tinted moisturiser I love to wear a BB cream. I like to wear corals and oranges.
Do you have any beauty secrets that you would like to share?
I have been to a dermatologist recently and he told me to put sunscreen on your face, your forearms and on the backs of your hands. There has been a study done in North Queensland where people who actually did this over a period of time (around 5 years) significantly reduced the recurrence of Melanoma.

Are you a 'woman of style' or know someone who is? We would love to hear from you! Contact us here