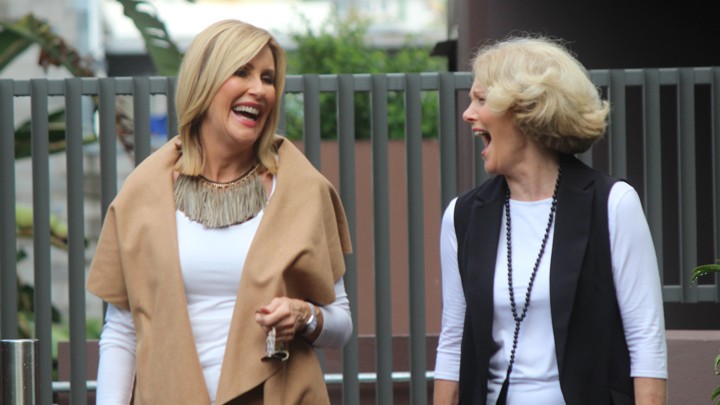 This is a topic a few of the ladies and I have been discussing of late and we thought we would explore it further.
It's personal
From my point of view I think style is a very personal thing.  No–one can tell you what you like or shouldn't like, you just like what you do.  This is your personal taste and where the seed of your unique style is planted.
Your style is based on what you love
Generally all of the things in your wardrobe have been chosen by you because you loved them. Over the years you have built up a collection of handbags and scarves that are just so you!  You might find that in your jewellery box you keep going back to the same things like pearls for instance.  I encourage you to embrace what you love.
It is what you are comfortable in
Your style has a lot to do with feeling comfortable in what you are wearing.  And by this I don't mean actual comfort like a pair of slippers but comfort derived by what makes you feel good.  There is nothing worse than wearing something that doesn't feel right.  You will feel self-conscious and fidget.  If you have anything like this in your wardrobe get rid of it NOW!
What works for your lifestyle
Depending on where you are at in your life you style will change accordingly.  When I was a lot younger, I had a lot more time on my hands.  I could spend time getting ready to go out.  I would take ages to apply my make-up and do my hair, and fuss around with looking 'just so'.  I was terribly interested in the latest fashion and looking fashionable. When my daughters were babies my style changed again – a quick ponytail became my hairdo of choice.  Pants were easier to wear and so were shoes that did not involve heels.
These days I am back in the workforce here at Starts at 60 so I dress accordingly.  I like to be well dressed and presentable with a nod to the latest trends, but never in heels –  unless I am going to a sit-down function.
A photo posted by Iris Apfel (@iris.apfel) on
You like what you see but keep your style evolving
By the time you are much older and wiser you know what suits you.  You know the shapes and colours to avoid and the clothes that work best for your body shape.  You have been there, done that, and if it didn't work the first time you are less likely to try it again!
However do embrace your style and keep letting it evolve.  Don't get stuck in a rut with a look that suited you 3 years ago or you will run into danger of looking dated. In actual fact, I think this is what a lot of big fashion brands do – they only focus on the young because they think we 'oldies' are past it and not interested in looking stylish anymore, which couldn't be further from the truth!  Put in a little effort into refreshing your look each season – it will make you feel good!
Pick and choose from the latest fashions
Be your own style editor – don't let anyone dictate to you what you should be wearing this season!  It is ok to update your look with some current trend pieces, but this should not mean you alter your own way of dressing.  Just pick what you love and what works for you- it is how you put it all together that makes it your own fabulous style.
insert here
What is my style?
What does style mean to you?
"I love a classic clean look punctuated with colour and fun. I am currently favouring silver jewellery, and gorgeous pendants.   I love glamour, beautifully styled hair, polished nails and stylish shoes."
Siobhan Beirne
"I feel most comfortable in tailored clothes, a bit dressed up if you like, that is My Style. I allow that does not suit everyone and that is fine. It is the same as wearing Satin, or Lace in broad daylight – I just would not do it, yet I see lace everywhere and it doesn't offend me – but old habits die hard. Although I try to keep current, I don't see why the style police should force me into wearing clothes in which I am not comfortable. Vive la Difference! If you want to look hobo, boho, steam punk, or polished, go for it! For me, Style is unique to each of us and to paraphrase "your opinion of my style is none of my business".
Karen O'Brien-Hall
"Being stylish has more to do with your flare, the way you wear your clothes and most importantly, wearing what suits you than it does with wearing whatever is in fashion this week."
Robyn Timms
"I like to look at current fashion……if it suits me and I love it…..I'll go with it…..if needed."
Barbara Bailey
"I have formal outfits that are well suited to a sedate lunch or a special reception, then there are my 'floaty' things, It depends on mood, who you are with and what the weather is doing.  Never do what others want, always follow your own star and be comfortable.  There are clothes that make us happy and garments that make us fidget or feel uncomfortable, I have an electric blue outfit that always makes me feel good, the colour lifts my mood."
Jacqui Lee
Tell us a little bit about what style means to you in the comments below!  We would love to hear from you!
Comments