Tom Hanks and wife Rita Wilson look smoking hot on red carpet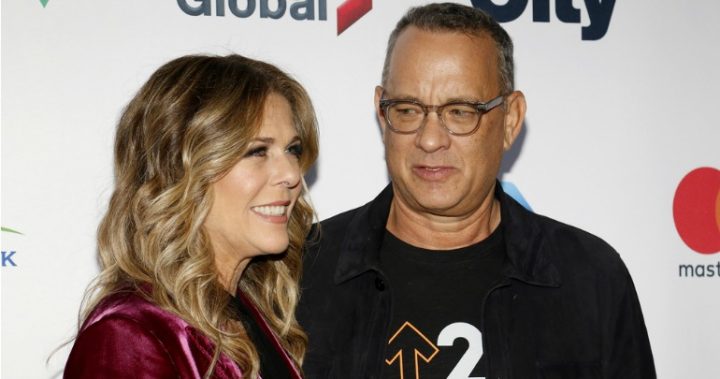 They've been married for nearly 30 years, but Tom Hank and Rita Wilson only have eyes for each other.
The Hollywood couple stepped out together on Monday night for the 7th annual Simply Shakespeare Benefit in Los Angeles and couldn't wipe the smiles off their faces as they joked on the red carpet before heading inside.
While Hanks kept it casual in a black t-shirt and pants, Wilson looked gorgeous in a print dress with strappy brown shoes.
The couple have been through plenty of ups and downs over the years, but it only seems to have made them stronger.
Ad. Article continues below.
In 2015, Wilson was diagnosed with breast cancer and has underwent a double mastectomy and reconstructive surgery.
She later said she "blown away" by the support her husband gave her throughout the difficult period, but putting everything aside to focus on his wife seems to have come easily for Hanks, who once admitted to having a crush on her in high school where they first met.
"People say, 'Jeez, it must be hard to stay married in showbusiness," he told The Mirror in 2016.
"I think it's hard to stay married anywhere, but if you marry the right person, it might work out. We give each other a natural sense of support for whatever the other wants to pursue.
Ad. Article continues below.
"Our marriage doesn't require vast work. We have been married 28 years and dig each other a lot.
"I still can't believe we were in high school together and I wouldn't have had the guts to talk to Rita Wilson and she has finally confessed she wouldn't have given me the time of day if I had.
In March, he told podcast Sooo Many White Guys, "We learned the secret of happiness with each other a long time ago and that's always telling the truth."
Ad. Article continues below.
"I will say that right from the get-go, I thought there was something crazy great about her.
"I met her and I thought 'Oh lord' … there's something cookin' here."
Are you a fan of this couple? Do you like Tom Hanks' movies?