The mission to remember Australian fashion icon that changed your life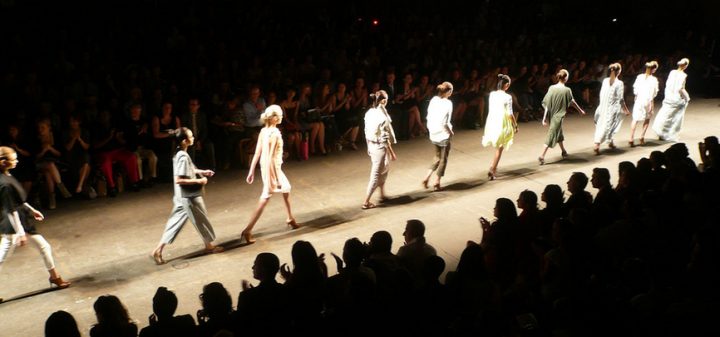 He is considered by many to be Australia's forgotten fashion treasure. However, his influence made socially acceptable what many do every day. Now his daughter is on a quest to introduce Australia to Simon Shinberg.
By all accounts, Shinberg was a super-charismatic and innovative fashion designer. He launched his own label Sharene Creations in the 1940s and also created the popular and affordable Mr Simon range.
One of his biggest contributions was the pants suit, which was mildly controversial in the early 60s, as women weren't allowed into clubs or restaurants if they were wearing pants. Shinberg would bring models that were dressed in his stunning pants suits to restaurants all over the country where they were denied entry. Causing a media storm, they finally won entry into a restaurant in Adelaide, and the trend started to continue.
Ad. Article continues below.
This wasn't the first trail blazed by Shinberg as his daughter, Debra-Leigh Dascal, told ABC's Australia Wide, "He was the first to have an Aboriginal model, as a house model. He was the first to export to China and Japan… Dad was really doing the first for a lot of things".
After Shinberg retired in 1989, he closed his still famous Mr Simon company instead of selling it because he didn't want its reputation ruined. While the memory of what he did for Australia fashion faded, it's his daughter that wants to put his designs back into the public's eye. She said, "My father only passed away four years ago. My husband always said to me, document your father's history, and I always thought my father was larger than life, and my father would live forever. And I never did,"
Ms Dascal's mission has been joined by Australian fashion historian Tom McEvoy who is helping collect Mr Simon clothing from all over the world in hopes of putting on a fashion show at next year's Melbourne Fashion Week celebrations. Mr McEvoy said "To some people, this could just be a grey dress," he said as he picked up a classic grey Sharene Creations dress with a 1950s silhouette from a rack. But once you learn the story and history behind it, it becomes something so much greater than what fast fashion could ever be."
Do you remember Mr Simon clothes? Do you still have some?