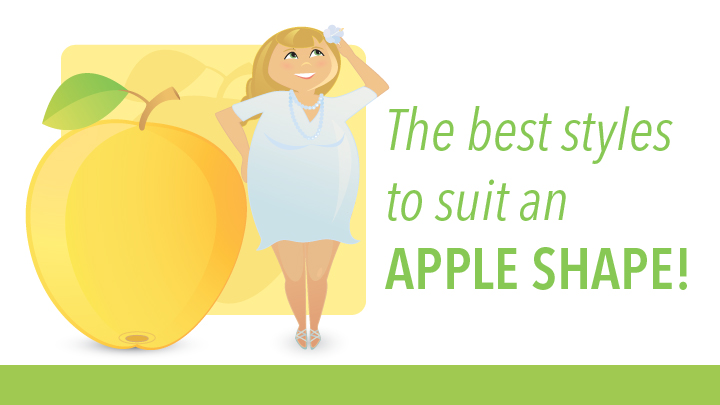 One of our Style at 60 readers has asked:
"How about some styles for us apple shapes – comfortable trousers that stay up instead of rolling down because we don't have a waist? I have a small bottom as well so it makes things complicated… "   – Pam Fulton
Thank you for asking Pam!  I am sure many of us are keen to know the best styles for an apple shaped figure!
Women with apple shaped figures tend to have the following general characteristics:
They carry most of their weight through the middle and upper torso, with the bust, waist and hips being of similar size.
a flat derriere!
full bust
broad shoulders
slim legs
little to no waist definition
When you are planning what to wear, bear in mind these key things always and you will never go wrong!
you want to create a longer and leaner torso
you want to create the illusion of a slimmer waistline by camouflaging your mid section
draw attention to your best features
The best styles to suit your body type are:
As always, make sure you are wearing underwear that fits you correctly!  If your underwear isn't right, nothing you put on top will ever look good!  Have your bra professionally fitted and choose underwear with tummy control!
Choose garments to skim the body – not cling!
Patterns can be a good choice to help camouflage your mid section.
Choose tops  with vertical lines or layer pieces to create a slimmer, elongated torso.
Look for tops with a slightly longer line like such as tunic tops.
Tops with rouching or fine draping through the middle can create the illusion of a defined waist
V necklines are particularly flattering.
Tops which are darker  in colour through the waist and lighter at the shoulders
Choose tops that can be worn out which have a slight flare at the hemline to create the illusion of  a smaller waist.
You cannot go wrong with a classic blazer which nips in gently at the waist.
Belted jackets worn open are an excellent choice.
A-line dresses and skirts are flattering.
Shorter length dresses and skirts will be best to show off your slim legs!
Pants with back flapped pockets will help to create the illusion of a more rounded derriere
Always choose pants with some S-T-R-E-T-C-H for the most comfortable fit.
Mid to high rised pants with a wider waistband or no waistband at all are less likely to roll down.
Flat-front pants are the most flattering particularly if they have a side or back zipper.
Pants that have a slight flare and bootcut jeans will be flattering.
Straight legged pants are excellent too as are leggings.
What to avoid:
Clingy fabrics and styles.
Tops that are too short & tight, like a fitted t-shirt.
Avoid tops that finish at the widest part of your hips also.  You want them to finish just below your hip bone or mid thigh.
Skirts which gather at the waistline.
Anything too fitted through the waistline (unless it has some flattering stretch/rouching/draping).
Pants without stretch.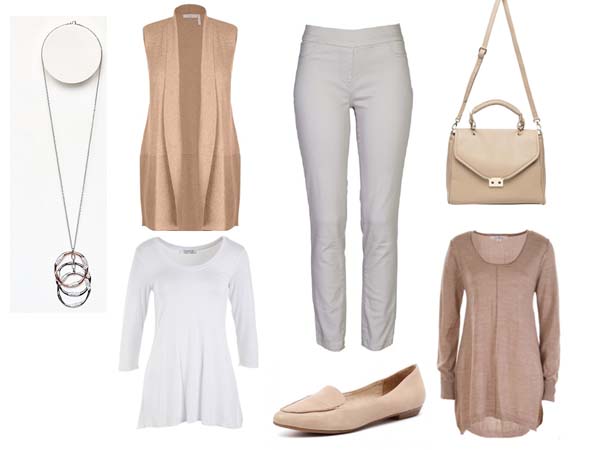 Millers sleeveless open front cardigan
Millers pull-on comfort jeans
Birdkeepers the wool pullover tunic
Mollini gyro latte leather
Lay'd a-line 3/4 sleeve top
TS14 triple dome necklace
Louenhide marrakesh bag
Did you find any of these tips useful?  Do you have any more tips that we might have missed?
Comments